Standing Out from The Competition (Tips for Small Businesses)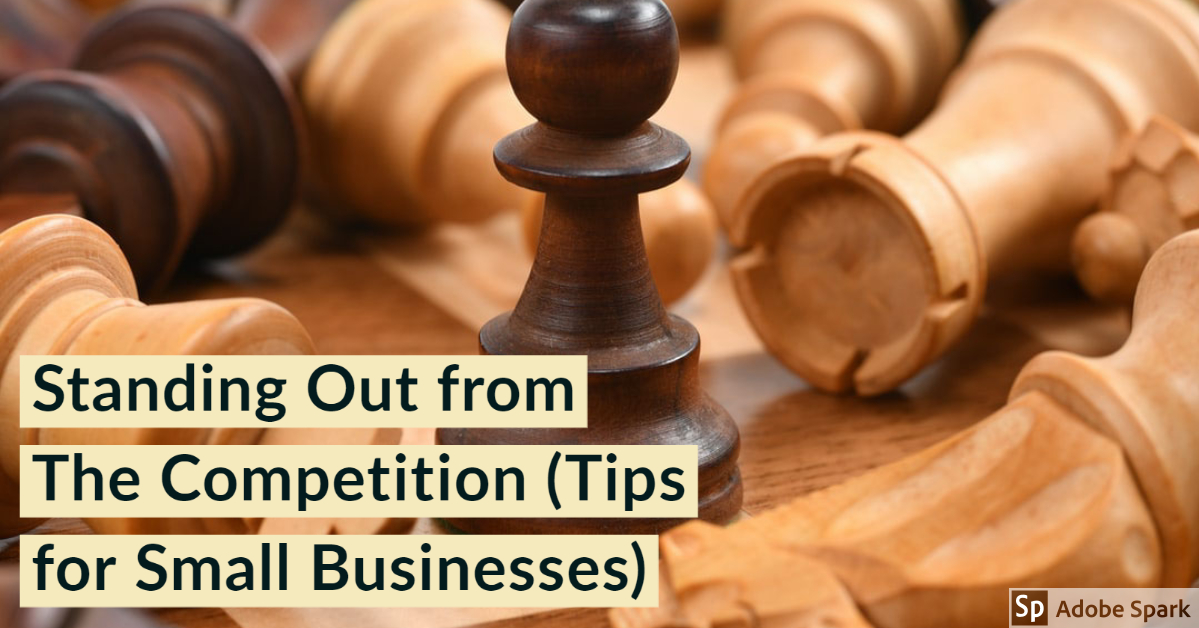 8mins Read
Did you know 86 percent of people in the U.S. trust small businesses, but only 55 percent have the same level of trust in big business? A Pew Foundation survey sheds a favorable light on the earnings potential of today's small businesses.
However, competition for consumer dollars is higher than ever before, so what can you do to stand out from the competition and earn your share of the pie? One thing's for certain: you can't use the same small business marketing strategies as everyone else. Transform your approach, and you'll transform your brand into one that is labeled as the best in class small business within your industry.
Here are some ways to stand out from the crowd, gain a following, and succeed in today's competitive small business environment.
Offer Great Products and Services
If you want to beat your competition, one of the best small business strategies you can employ is simply providing outstanding products or services. With 74% of consumers identifying word-of-mouth as a key influencer in their purchasing decision (Ogilvy/Google/TNS), word-of-mouth is typically an important lead generator for small businesses.
Sure, a great logo and effective branding will also play a key role in your success. However, if your product or service doesn't leave a positive lasting impression, you're not going to succeed in gaining loyalty, repeat customers, and new customers from referrals and word-of-mouth. Keep refining your product and make sure to put it first, then focus your attention on sales and the money it generates.
Define Your Brand
With an outstanding product or service in place, it's time to work on branding your business. Small-business branding is much more than eye-catching logos and smart merchandising; it's a melting pot of every customer's experiences with a company.
The best way to stay memorable is to go against the crowd. Your small business is probably not the first business offering what you're trying to present to your market.
There are literally thousands, if not millions, who want to also partake of the overall market share in your niche. What will differentiate you from others is branding yourself differently.
Branding takes time to build into a potential customer's mind, so there is a need to go the extra mile. Do the things your competitors don't want to do.
From your social media and general marketing message to the visual elements of your company and your interactions with customers, all of these elements help shape your business, the message you want to share, the people you want to attract, and the credibility you hope to obtain.
Target Your Market with Laser Precision
Many small business owners make the mistake of trying to appeal to a broad audience. However, one of the best small business strategies is to precisely target specific groups of people looking to solve a very specific problem.
When you've defined your target market and understand who benefits the most from your products or services, you'll attract more customers, position yourself as an expert, and be able to charge more for your specialization and perceived quality. Think boutique not big box.
Become an Expert
To truly beat your competition and separate yourself from the pack, you need to position your business as an expert in its field. How do you do this, you ask? The answer is simple: demonstrate your uniqueness and expertise by creating great content, giving your target audience a reason to reach out to you and purchase your product or services.
A few ideas for positioning yourself as an expert:
Create an irresistible free offer demonstrating your understanding of their problems and your ability to solve them.
Publish thought leadership content on your website.
Get data that other companies don't have by talking to your clients.
Guest blog on highly authoritative websites where your potential customers are hanging out.
Utilize Competitive Differentiators
If you want to stand out from your competition, you have to be different from them. If you want to build a strong brand, you must pinpoint exactly what it is that makes you unique by doing a SWOT analysis. You must utilize competitive differentiators.
As the name suggests, competitive differentiators are specific things that make your company different from your competitors.
After brainstorming and making a list of your business's competitive differentiators, make sure to weave them into your company message, company culture, and small business marketing strategies.
Put a Face with the Product
Many small businesses fail because the owners are off being "owners" rather than being the face of their business. Just watch "The Profit" or "Bar Rescue" and you'll find plenty of examples of what can go wrong when owners go AWOL and leave their businesses to run themselves.
Although your business needs to function well without your continual presence, you must discover a balance and find a way to be the face of the business and connect with the customers. Thriving businesses all have the same thing in common: owners who are active and engaged both inside the company and out in the community.
Choose a Catchy Name and Great Logo
A successful business starts with a strong foundation, and part of a strong foundation is having a great name and an eye-catching logo. Since changing your business name or logo can be costly and a huge headache later down the road, it's important to get it right from the start. Your company name and logo should be easy to recognize and appeal to your target audience. They should also reflect your brand's personality, the products it offers, and the overall tone of the company.
From your logo and the font of your website to the alignment of your company, do it all differently. When you go against the crowd, it's always harder. But that is how success happens.
Build an Experience Not Just a Website
We have all searched for a local business on Google and clicked on a link only to find the website was unusable on our smartphone, was poorly designed, or we couldn't find basic contact information. How did this make you feel? If you're anything like us and the majority of other people, you immediately lost trust in the business and went back to Google to find another company to solve your problem.
Small businesses need to adjust their mindset that a website is just a brochure for their company or that its design and user experience does not matter. They need to start thinking about building a small business website experience that cultivates trust and helps users find the information they are searching for.
And it doesn't have to be expensive; you just have to find the right company to create your website experience.
Have a Clear Voice in the Marketplace
An excellent small-business branding strategy is to consistently deliver your unique brand message and focus on customer communication via social media, in person, and on the phone.
Lacking creative ideas and not sure about the "voice" of your brand? Have a look at what other brands are doing. What are the positive attributes of their branding, marketing, and relationship building you would like to emulate? Sure, you want to be different than your competitors, but you can look to businesses in other markets or industries for examples of what to do to dominate your own niche or locale.
Build Strong Customer Relationships
Once your prospects or customers are off the phone or have left your store or site, chances are they're going to forget all about you. How can you avoid this? Build relationships with them of course! Everyone knows customer relationships affect the success of your business, but few understand just how impactful loyalty is. One study reported that 89 percent of consumers have stopped doing business with a company after experiencing poor service.
Make an effort to stay in contact with prospects and customers at least once a week. Give them insightful tips, poignant knowledge, discounts, and so on to get to know your business, follow it on social media, and actually look forward to the emails you send.
Build a Community
In today's day and age, a business must build a passionate on and offline community to gain the trust and respect of its current and future customers. Although this takes some time and dedication, it doesn't take much money, which may be a breath of fresh air if you've been spending on traditional advertising and seeing less than stellar results.
Facebook and Twitter are both excellent social media platforms for community building, while local events, fundraisers, and workshops are terrific ways of building an offline community. This grassroots style of business and brand building can be highly effective when executed correctly.
Become a Brand Advocate
The best salesmen aren't necessarily the best businessmen. There are many forms of selling, and being an advocate for your brand combines many of them into one cohesive message.
If you're passionate about your business, share your passion with others and make them excited about your business too. Make sure others understand the story behind the products, the people they have helped, your company mission, and so on. By doing so, you'll become an authority in your niche and stand out from the pack.
Have a Unique Selling Proposition
What's unique about your products or services? What makes your business different from the others in your niche? The answers to these two questions will determine your unique selling proposition and your value to your customers.
Money-Back Guarantee
Money-back guarantee will help assure customers they're receiving a product or service worthy of parting with their hard-earned money. Unfortunately, many businesses fail to recognize the power of this marketing tactic. If you're the only one in your niche offering these incentives, you're sure to stand out and acquire more sales.
Communicate with Your Customers
According to Entrepreneur, it's important to get customer feedback regarding the product, future products, the sales process, and so on. This customer data can prove invaluable in a number of ways, including the development of strong customer relationships.
How do you get feedback from your customers? Here are the best ways to get consistent feedback:
Client Surveys
Feedback boxes on your website and in-store
Direct customer contact
Website and in-store usability tests
Have a Superb Customer Service
Your customer care is the engine of your small business, so aim to create a superb service for each client. Bain & Co reports that a customer is four times more likely to buy from a competitor if the problem is service-related rather than price or product-related.
Find out how your top competitors are treating customers and how well they invest in making their customer care work effortlessly. Ask your team what they are doing that you aren't doing and how your services can be made friendlier and more balanced for prospective clients.
Competition is fierce, and your customers may not remain customers long if you don't take active steps to build their loyalty.
Solve Problems, Don't Just Offer Services
Businesses exist to solve the problems of potential clients. Your small business should be checkmated around that line to know how well you're solving the problems.
From doing market research, you should be able to develop a strategy for solving the problems your competitors aren't solving. The research you'll do in your niche will enable you to see gaps in the market and to see where your competitors are missing opportunities.
Fill up those gaps by producing a better product or a product that specifically answers the questions that no competitors are answering. The more you present a product as a solution, the more revenue and market share you cut out.
Reduce and Focus Your Target Market
It's not a good thing for a small business to start out in a crowded market. In some markets, there are top dogs present who have literally taken over the market.
But taking on the whole market may not be the best strategy. Instead of focusing on the market as a whole, find a subset of your market to focus your energies on, and let your brand be the top dog there.
You may end up eating a smaller pie, but it's better than fighting the big competitors for a small share of a big pie. Locate that big market, and don't just stop there; go further and try to take over other little sub-niche markets around it.
Focus More on Innovation
Brands die when they stop innovating. Some create epic products that go viral and then go to rest on the success of that product alone. Business has no resting place. Innovating in business is simply striving to outwork and outperform your previous products.
Compare your services with those of your competitors. If they're literally on same page, you need to heighten your services and outdo them.
Don't stop there. Also compare your products to those of your competitors, and see if you're on same page with them. Your goal is to outrank them.
Create a Best-in-Class In-Store Experience
We have driven past many small businesses that we would probably not go into. They may have great products and services, but at first glance, their brick and mortar facade does not build trust with us.
Much like your website is one of the first impressions your potential customers will have of your businesses online, your storefront experience is what potential customers will see when they are driving or walking past. Here are a few tips for creating a great in-store experience and storefront that will get people to want to come in and browse:
Begin with your target customer in mind.
Find inspiration by visiting other stores.
Get a designer to help you organize and decorate.
Remember that people have five senses, not one. Appeal to them all.
Show, don't tell.
Remember the Rule of Three when creating displays.
Let light dictate mood and attention.
Don't forget to change it up and keep it fresh and inviting.
In Conclusion
If your business has been around for any length of time, chances are you've heard many of these small business marketing strategies, but are you using them? For many business owners, these strategies are nothing new, but many fail to put them into action and see results.
Don't be another failed small-business statistic. Use these simple, time-tested tips to stand out from the competition and dominate your niche today!
Comments