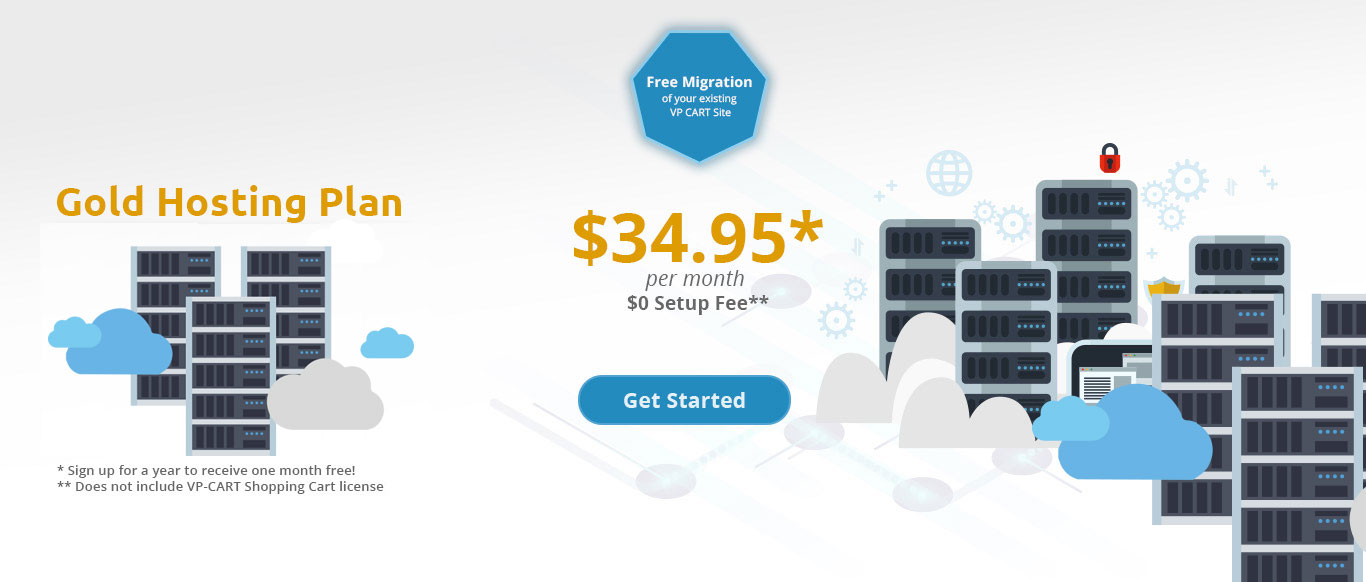 Choose the right hosting plan for your business
VP-CART Gold Windows Hosting Plan gives your online store top of the shelf security abilities, letting it run as it is meant to run. Experience the very best of load times with our efficient servers, premium hardware, and multiple caching layers.
Breathe easy knowing that your customers view and request for your products/services with speed while you can conveniently respond to those large traffic spikes without any service interruption
Subscribe to our Gold Hosting Plan and you would not be disappointed.
Key Features
Free VPCART Shopping Cart Installation
You simply need to purchase a copy of VPCART, let us know the order ID and we will get it set up and ready for you.
This service will get VP-CART running along with the following:
Liaise with you for your company details.
Upload the VP-CART package of your choice to our servers
Load the Access database to a special secure directory or build the SQL Server or MySQL tables if you are on the Gold or Platinum plan.
Update VP-CART configuration files to include your customer and database details
Configure the VP-CART to include:

Basic Company configuration and e-mail set-up
Company name and details

Add up to five categories
Add up to 10 products
Run basic tests and complete a test order

Verify the database can be read and written
Verify the mail can be sent on order completion
Verify products and categories are displayed
For more services please see:
VP-CART Installation and Set-Up

Disclaimer:
We understand that migrating your website from one hosting provider to another can be a daunting task. To make this process easier for you, we offer a default migration service for all VPCart files when you switch to our server. For clients using VPCart system, we will also migrate your database as part of our default procedure.
Please note that for systems outside of VPCart, such as PHP systems, forums, and helpdesk applications, we will not handle the migration by default. However, we are always ready to assist you in any way we can. If you would like us to migrate your entire website, including your database, to our server, simply let us know the exact details of each system and we will be happy to help.
We take the utmost care when transferring your website files and data, but we cannot be held responsible for any issues or downtime that may occur during the migration process. It is always recommended that you keep a backup of your data to ensure a smooth transition.
Thank you for choosing our hosting services. We are committed to providing you with exceptional service and support as you make the move to our server.