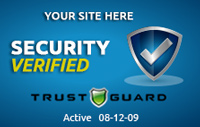 TrustGuard - PCI Security Scanner
We are partnering with TrustGuard to offer PCI scanning to our customers.

Having dealt with a variety of PCI Scanning Vendors, we can recommend TrustGuard to perform accurate and informative scans.

The normal price for Quarterly PCI Scan :
$37.00/mo
Special price
through VPCart :
US$29.60/mo
About Trust Guard Security Scanning Services
Trust Guard is a global leader in PCI compliance and website security, with thousands of satisfied clients. With over a decade of award-winning service and experience, we supply intensive penetration testing services to small businesses as well as global enterprise networks that handle millions of annual transactions.
Trust Guard is considered the #1 most trusted cybersecurity service provider online. In conjunction with our partners, we are a certified PCI ASV and PCI Compliant service provider. We continually strive to expand and enhance our security solutions to meet the ever-evolving threats and risks present in today's enterprise environments.
Our authorized scanning vendor (ASV) partners perform intrusive tests, identifying vulnerabilities, and offering detailed recommendations to keep websites safe while protecting online shoppers' personal information too.
Also of note is the effective, valuable nature of our trust seals. Extensive third-party tests have proven that Trust Guard's Security Scanned seal provides website owners with a higher boost in conversion rates than any of our competitor's seals. When this powerful digital image is placed on a website, it increases that site's sales by an average of 15%. That's because shoppers visiting their site feel safer and more confident when making online buying decisions.
TrustGuard has over 6,000 clients globally so you can be assured you are in safe hands!
Why Is This Important For You?

Over 80% of websites have open vulnerabilities that can easily be exploited by hackers and other malicious attacks.

This statistic has alarming implications for you, the website owner. An SSL is not enough and without vulnerability scanning, you are putting your customers and business at risk. You are also leaving your self open to steep financial penalties and damages from the credit card companies if there is ever a breach.

What Are The Benefits You Will Get?

Regular Security Scanning by Trust Guard provides you with 3 direct benefits:
1. You fortify your defenses, which helps protect your website from outside attacks.

2. You receive PCI Approved Scanning Vendor reports with each scan, that you can submit to your bank or merchant provider to become PCI compliant.

3. Once a scan has passed, you can display an official Trust Guard Security Scanned seal on your website, which gives your customers instant peace of mind, and helps increase your sales!
Sign Up