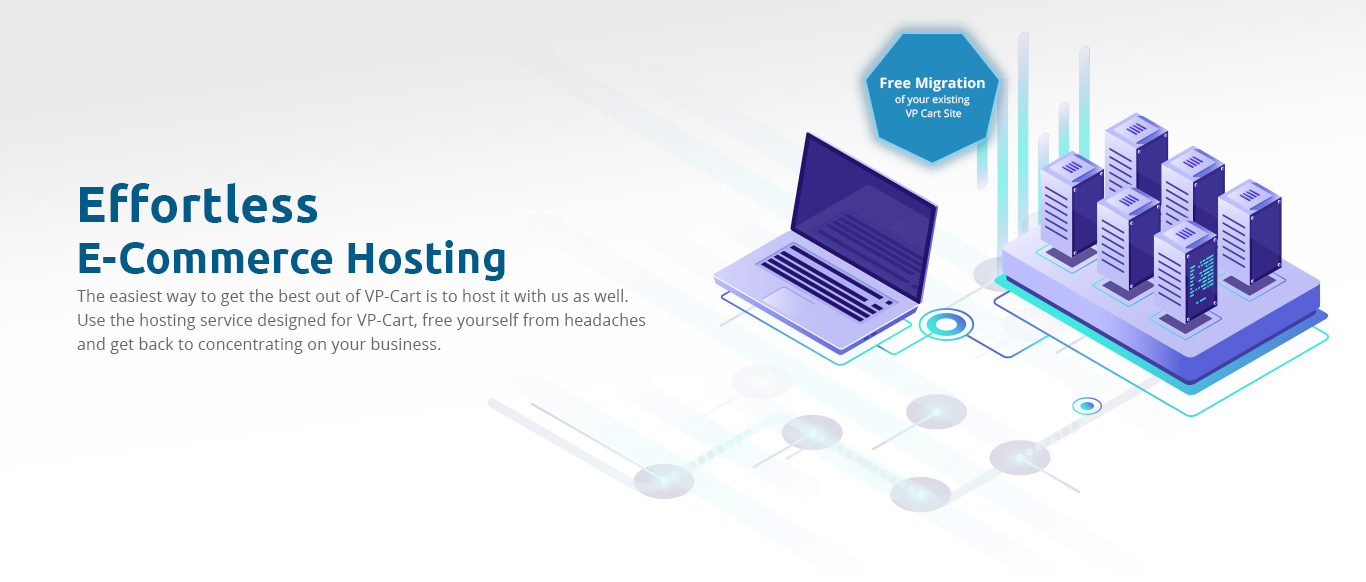 Silver Hosting
$19.95
Per Month
Features
50GB Bandwidth
4GB Disk Space
Unlimited Email Accounts
99.9% Uptime
More Information
Gold Hosting
$34.95
Per Month
Features
100GB Bandwidth
8GB Disk Space
Unlimited Email Accounts
99.9% Uptime
More Information
Platinum Hosting
$49.95
Per Month
Features
200GB Bandwidth
16GB Disk Space
Unlimited Email Accounts
99.9% Uptime
More Information
Why use VP-CART Hosting?
You may be wondering why anyone would choose VP-CART Hosting when other hosting services are available for as little as $5 per month.
The thing with hosting is, you truly do get what you pay for, hosting companies who charge rock bottom prices offer rock bottom services, often hosting thousands of websites on their servers. At VP-CART we host a maximum of 100 sites per server meaning your site is guaranteed to run lightning fast, even during major traffic peaks.
Read more about the benefits of hosting with VP-CART here.
Dedicated Hosting Services
Maximize your investments' value with greater online visibility, Get the most for your money! Get started with high capacity VPCART servers and enjoy 100% uptime with our self fully managed servers. Rest easy, knowing VPCART got you covered, for more details on VPCART Dedicated Servers, Click here
Free Migration
We are offering free site migration to our servers if you sign up with the Gold or Platinum Plans. So if you are running a VPCART store on another web host we will migrate the site for you to our servers for free.
*Base package cost - optional extras may increase the monthly charge. Discount applies if you purchase a yearly plan. Free migration service available only on Gold and Platinum hosting packages.
Disclaimer
We understand that migrating your website from one hosting provider to another can be a daunting task. To make this process easier for you, we offer a default migration service for all VPCart files when you switch to our server. For clients using VPCart system, we will also migrate your database as part of our default procedure.
Please note that for systems outside of VPCart, such as PHP systems, forums, and helpdesk applications, we will not handle the migration by default. However, we are always ready to assist you in any way we can. If you would like us to migrate your entire website, including your database, to our server, simply let us know the exact details of each system and we will be happy to help.
We take the utmost care when transferring your website files and data, but we cannot be held responsible for any issues or downtime that may occur during the migration process. It is always recommended that you keep a backup of your data to ensure a smooth transition.
Thank you for choosing our hosting services. We are committed to providing you with exceptional service and support as you make the move to our server.
Hosting Extras
Product/Service
Description
Additional Disk Space
GB of SAN space

$0.50

Additional bandwidth
Additional data transfer (GB)

$0.50

Backup disk space
Disk space for local backup(per GB)

$2.00

IP Address
1 included with each Gold or Platinum account

$10.00

SQL Server
SQL Server 2008 (user)

$30.00

*(Please note - the above costs are per month)
Note
:
There is a $45.00 USD charge for us to install your external SSL or if you purchase
SSL
from us we will install it for free.