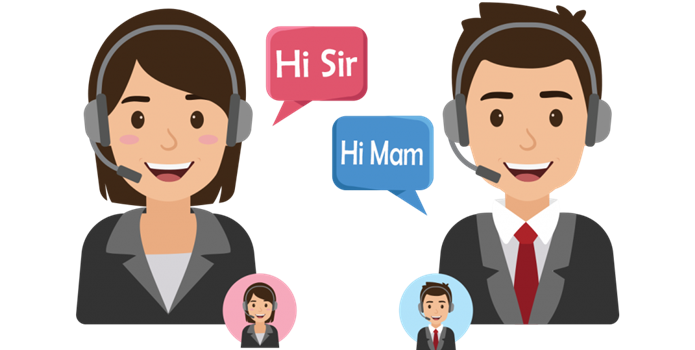 Easy steps to Improving Customer Service on Your E-commerce Site
Tuesday, September 28, 2021
A friend of mine decided to expand his interior decor business by adding a few light furniture fittings, he had gone through the business numbers, thought of the pro and cons, done his market research, and even went as far as giving out free samples to customers. He had the technical expertise, had a waiting list of clients, and most importantly, he had the time to look after the new business.

He was able to successfully kick-start the business and in no time, word got around that he was the go-to person for light furniture fittings. But then there was a little problem, there was no repeat business. In trying to solve this challenge, he tried increasing the number of his employees, however, that didn't work either. Which now leaves the question, what exactly is the problem?

Whether you realize it or not, customer service plays a major role in most of the purchases you get. Think about when you're looking to buy a particular item that multiple brands sell for roughly the same price. What sets the one you apart from the ones you pass up? I will tell you, Impeccable Customer service.

So I ask you, what does ecommerce customer service really mean?

To some experts, ecommerce customer service is the combination of strategies, people, and technology used to provide customers of online stores. It is the framework for supporting shoppers via e-commerce platforms and throughout their life cycles. Support for online businesses must account for the unique challenges involved with serving digital consumers:
High volumes of service and support requests
Common questions related to products, fulfillment, and returns
As well as the need to monitor multiple channels with fast response times

To put it simply, it is the backbone of every online business. It is how online businesses provide assistance to customers with everything from making online purchase decisions to resolving issues — all while creating a seamless customer experience across channels and platforms.

First Impression Matters, Get Organized
Let's face it if your website is looking tacky or out of date, customers will simply click away. You have to be aware that a user's purchase decision is usually made just after 3 seconds on your website – so it is the first impression that counts. If customers do not like it, they won't buy anything and won't ever come back.

Make a good impression, check out the new VPCART Themes

Running an ecommerce store is no place for the rigid-hearted, you need to know when and how to adjust with time. So, if you run an ecommerce store and you're not using live chat, then you need to seriously have a rethink on things. Deploying it can help you with everything from sales inquiries, to proactive selling, to managing questions about invoices and shipping, to post-sales support. By leveraging pre-written macros within the experience, live chat can also help you and your team to be more productive and more consistent in your responses.

If you're already using live chat, don't pat yourself on the back quite yet. Rapid-fire chats can also be a rich stream of opportunity, so make time to go back through your chat transcripts to see if there are places to address customer feedback or to follow up on issues raised within the chat.

Set up a knowledge base (KB)
Knowledge bases aren't just for tech companies. These can be set up for internal or external use and are proven to be valuable, scalable customer service tools. They're also an SEO goldmine, providing the opportunity to target some long-tail keywords on your own channel.

A major business justification for a self-service portal is that it's inexpensive and customers prefer it. Their time is valuable and they want to solve issues themselves, and it frees up agents for more complex issues that require one on one support.

FAQs have shown to be of several distinct advantages. Mainly, they'll save you a lot of time answering easy questions. And customers will appreciate being able to quickly find the answers. As with KBs, FAQ pages also help improve SEO by lengthening product pages naturally with additional keyword-rich content. In time, connecting your FAQ and content from the knowledge base will help ensure customers are equipped to find what they need, wherever they are on your website.

Offer all-around the clock phone support
When was the last time you left a voicemail for an ecommerce store? If the answer is between "never" and "rarely," then you're not alone. That said, times might be changing. A number of integrated customer service solutions offer voice products that will take voicemails when you can't be online. Alternately, you can use a 24-hour live-answering service so that your customers are always talking to a live human, leaving you free to call back during office hours.

Write an easy-to-understand returns policy
It's possible to write a returns policy that increases your conversions. Returns are just one part of doing business, online or offline. Check your policy to make sure it is easy to understand; a smooth returns policy could yield return customers. When you can't explain the policy face-to-face, you're at risk of confusing and upsetting your customers or making them jump through too many hoops, which impacts your ability to have a long-term relationship with them.

Improve your average response time
Allowing customers to reach your customer service team using different channels is not enough. The key to a well-performing team is the balance between speed and convenience.

Ecommerce is all about speed and convenience. Customers who choose to shop online are expecting a fast reaction and prompt answers. According to Statista, 12% of Americans rate their number one frustration with customer service as "lack of speed."

When you're able to serve customers with a consistent level of quality in a short period of time across different channels, you're on the path to providing a fully functional, multichannel customer service strategy.

Follow up after the problem has been solved.
It is essential that customers feel as though you were on their side when a problem occurred, so follow up to make sure the problem was fully resolved and that the customer is satisfied with the service. You can do this through an email or a feedback survey – the goal is to let the customer know you are on their side.
As customers' expectations for the ideal online shopping experience increase, customer service becomes essential to thrive in a competitive ecommerce landscape. Start with the right tools to set up a strong foundation. Then, create systems to allow your support team to scale their resources.

The most important of those resources being your brand's unique voice and ability to form personal connections.

By investing in your customer service, you'll increase long-term loyalty and the lifetime value of your customers.
Comments