Recurring Billing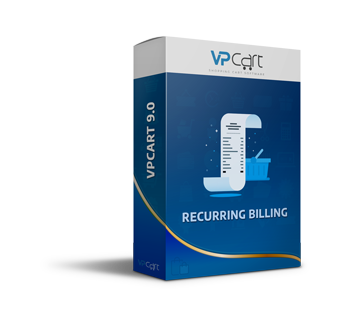 The recurring billing module adds the option to sell products such as subscriptions, which requires that you bill the customer on a periodic basis. Billings can be set-up automatically when a customer purchases a product from the shop or can be manually created.
The facilities of the recurring billing system include:
Automatic creation of recurring billing on the purchase of a product.

The manual set-up of recurring billing for a customer.

Ability to pay for the bill using any payment method the shop accepts

Ability to set-up any number of billing installments

Installment type can be set as weekly, monthly, yearly, or any number of days.

Customers receive the bill via e-mail with a template that you create.

Customer pays for the bill using your VP-CART
Costs
The installment billing system is an add-on to the VP-CART. It comes with full source code and documentation.
The Billing system requires VP-CART Plus
VP-CART Recurring Billing Add-on is $US75
Sample usage
If you are selling products such as subscriptions, domain names, or anything that requires the customer to pay on a periodic basis, then this VP-CART add-on is exactly what you need.
If you wish to offer a lay-by or deposit and then $x per month, then this facility is for you. The deposit can be any amount including 0.
If you are renting something, use the VP-CART Shopping cart to send rental bills and accept payments. Continuous billing or a specific number of installments can be used.
The merchant can temporarily suspend billing for a particular customer and then resume it.
Automated Billing Creation
Automatic bill creation is used when you want to create an installment record or when the customer purchases a product from your site. If and when the customer orders a product from your shop, VP-CART checks to determine if this is an installment product by looking at the necessary fields in the product record. If this is a product that should have installment payments, VP-CART automatically sets up the number of installment records.
Automated Billing Creation
It is not necessary for a customer to buy something from your shop. It is possible to set up manual billing. Simply create a record in the billing table with the correct values. This can be done through the VP-CART administration system by creating a new record.
How does Customer Pay the Bill?
When it is time to send a bill, VP-CART will send an e-mail to the customer with payment details. The customer uses a special login page that automatically fills in the payment information. They would then check out normally and pay through whichever payment method your shop accepts.
The customer can also add other items to the order at the same time.
The recurring billing does NOT automatically charge a customer's credit card. It is up to the customer to pay the bill in whichever way your shop supports.