Writing a Return Policy that attracts Customers' Loyalty
Thursday, January 9, 2020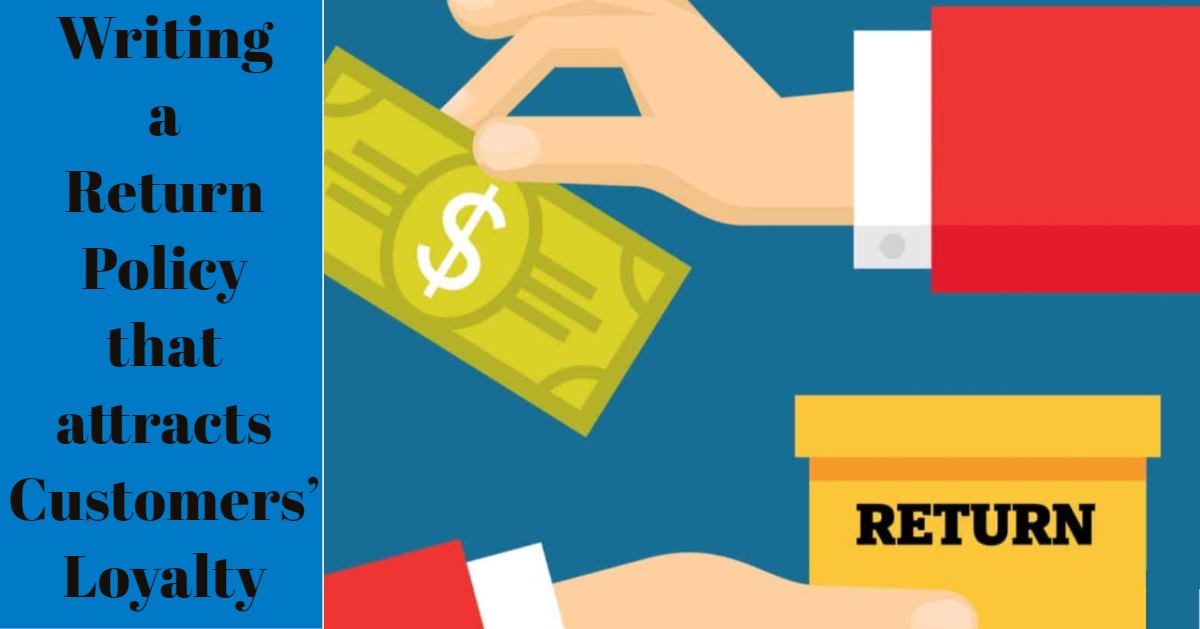 5mins Read
The world of eCommerce comes with its challenges, and part of your responsibilities as an online store owner is to overcome them. An example of the challenge revolves around the basic fact that a shopper does not get to physically look at, or feel a product before making a purchase. To compensate for this, online store owners must create and design a return policy that is concise, useful, engaging and easy to understand. Product returns can have a significant impact on your store's bottom line — in many ways.
Your eCommerce return policy is essential for making returns and exchanges easy for both you and the customer. The more clearly your return, exchange, and refund policies, the better. Because the cost of product returns, on top of free return shipping (if you offer it) can be overwhelming to your business. However, the threat of lost sales if you do not is very real.
According to the National Retail Federation, in 2018 customers returned $369 billion — about 10% — of all purchases, brick-and-mortar and online.
Return rates jump to about 30% or higher when looking at just online purchases. For example, Revolve, the popular online clothing seller, made $400 million in net sales in 2017 but paid out an almost equal amount, $385 million, for returns, That does not include the cost of return shipping.
But your returns policies and the return process also have a significant impact on customer satisfaction. A 2019 survey from UPS found that, for 73% of shoppers, the overall returns experience impacts how likely they are to purchase from a given retailer again, and 68% say the experience affects their overall perceptions of the retailer.
Holiday and gift return.
There are so many expectations and perceptions of obligation around gift-giving, it is no wonder that a large percentage of the gifts we give, particularly to those people we do not know well, fall flat.
While holiday return rates are typically about twice as high as the rest of the year, customer satisfaction with those returns is lower. Only 57% of shoppers say gift returns are easy or very easy, compared to 67% of non-gift returns.
Holiday gift returns are such a big deal, UPS coined a new shopping-season "holiday": National Returns Day. The package and delivery logistics company estimates that this year's peak returns day — January 2, 2020 — will see 1.9 million returns. That's a 26% increase over last year.
Returns fraud and abuse.
NRF found that about 6.5% or $22.6 billion of returns were labeled fraud or abuse of store return policies. That includes falsifying receipts to profit or buying something to wear it once before returning it.
Why A Great Ecommerce Returns Policy Is A Must-Have
It can be tempting to try to eliminate returns by making customers jump through hoops. However, customers aren't likely to trust an online retailer that doesn't offer an easy way to return purchases that don't fit, arrive damaged, or just aren't quite what they expected.
The importance of trust.
If customers are hesitant about a purchase, they want to know that your brand will not make returning something difficult.
Providing a comprehensive policy for returns and exchanges instills confidence in you, your business and your products. Also, trust has a huge impact on your bottom line.
When writing a return policy for your eCommerce website, there are a couple of things to keep in mind.
Don't hide your policy.
Your customers should never have to go on a scavenger hunt to find information on your store. Keep this in broad daylight on your main menu.
On the other hand, if you are comfortable, shout it from the rooftops by placing it in places like your carousel and banners throughout your store.
Stipulate a specified period for returns
It is important to tell your customers to know how long they have to return a product. The generally accepted standard is 15-30 days, although a few businesses opt for 90 days. Either way, you will not help yourself by accepting returns beyond that time.
Fail to disclose a period for returns and you will discover customers trying to ship back items months, even years after they have been bought. This is not a good thing for online storeowners. Several large businesses have suffered losses because of open-ended return periods, to the point that most have presented stricter rules.
Choose refund or in-store credit
Customers need to know how you plan to compensate them before they return an item. Many will demand a full refund while others may agree to in-store credit. As an e-store owner, you have to choose between the two.
At your discretion, you can choose to offer store credit for particular types of returns. If you choose to do this, ensure you explain the accurate circumstances in your policy. Utilized properly, the store credit can improve and enhance your returns process.
Keep the language simple and to the point
The general standard guideline here is to write as if you are talking directly to the customer. If you are not a lawyer, do not try to act like one. Use verbiage your customers can identify with, and do not hesitate to give your return policy some personality. So long as it is clear, concise and not open for translation, you are ready.
Define the expected condition of returns
It is one thing to acknowledge a return if the customer is quickly unhappy with a product or the product is defective. It is another thing entirely to accept a return if a product has either been used, broken or devalued in any way.
When structuring your company's return policy, define the condition a product should be in before a return is processed. If you fail to add this information, customers will attempt to return merchandise in condition too poor for an exchange. In this case, you might be taking a loss.
List return requirements
When you set requirements for a return to be processed, you have to tell customers early. For instance, you might need to stipulate that all returns must be sent unopened and/or in its original packaging.
You should likewise let customers in as to whether they need an authorization number, purchase receipt, shipping address, and so forth. Whatever conditions you pick, say them clearly for all to see.
Promote your policy
A return policy is just as good as its visibility. If nobody can find it, then it does not exist, and that spells something bad for online owners.
It is always a smart idea to feature your return policy on the homepage of your website. The footer is a well-known spot for this and some even like making it a part of the checkout process.
In addition to homepage placement, we recommend you do the following two things. First, include a printed copy of your return policy inside each package you ship. Second, include your policy inside the purchase-confirmation email you send to customers.
Educate your staff.
Make sure all employees are up to date with your return policy and procedures so they can assist customers quickly and effectively.
Be prepared to eat the cost of your mistakes.
If you messed up, be honest and make it right. If you shipped the wrong item or packaged it poorly, you should be willing to make it right no matter what the official policy is.
We are fun, follow us on social media

Conclusion
When creating your company's return policy, take as much time as it needed to come up with a game plan. In other words, map out what you need to do before doing it. Brainstorm ideas, do some research, compose a couple of drafts and ask for guidance. Read the return policies of successful organizations and look at return policy formats.
Do not forget to play fair. If you make a change to your policy, be sure to honor the old policy if an order was placed before the change took place.
Comments