Why You Should Consider Offering A third party Consumer Finance On your Store
Thursday, November 21, 2019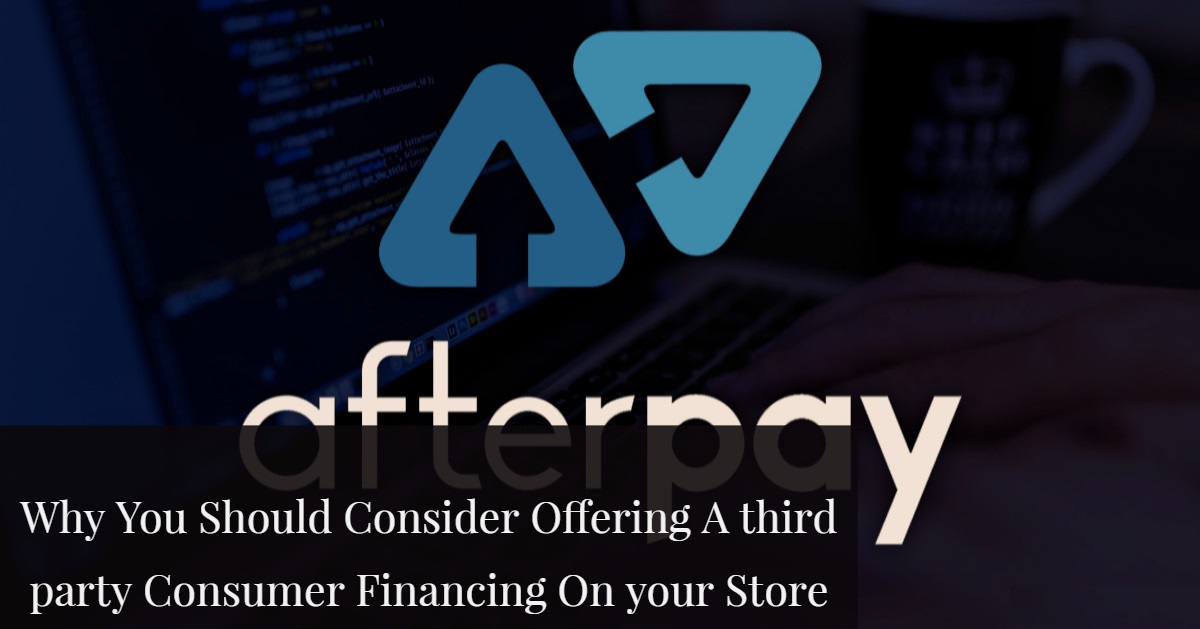 3 Mins Read
If waiting for customer payments to roll in is causing a cash flow issue, in-store financing could be a solution, By working with a third-party financing company, your small business can also set up a program where customers buy now and pay later. With this arrangement, you could increase sales, boost customer retention, and even improve your cash flow.
How Can I Offer Financing to My Customers?
When you are about to make a finance offer to your customers, you might imagine that your business would extend the credit directly. In simple terms, you would give customers the product or service with the promise that they'll pay you back later.
While you could set up this arrangement, it's more complicated and won't fix your cash flow issues since you're waiting on customers to pay their bills. There are much easier alternatives. It's more common for small businesses to work with third-party financing companies like ViaBill, Afterpay or Snap Finance. These companies offer a point of sale financing, where your customer borrows from them to make the purchase and your business gets paid right away. You enjoy making sales on credit without taking on the financial risk.
How Do I Make a Sale?
When your business signs up with one of these financing companies, they'll give you an online and/or mobile program to process sales. As customers make a purchase, they can apply for delayed payments through the system. The financing company will review their credit score and decide on the spot.
If customers qualify, the financing company will pay your business in full for their purchases. They will then be in charge of setting up payment plans for customers and collecting money.
You will pay a small fee for the service. It could be a monthly charge or a percent of every sale, like for processing credit cards. Your customers could also owe interest on their installment payments.
How does your Business Benefit?
1. Increase your customer satisfaction
Regardless of whether it is the classic payment term, part payment pausing - your customers can adapt payments to their financial situation. Your customers also have the possibility of marking their returns so they do not receive unnecessary payment reminders, but only pay for what they want to keep. Our optimized returns management is your key to higher customer retention, which will also drive your sales.
2. Increase your conversion rate
With consumer financing platforms like AfterPay, not only can your customers only pay once they have received their goods, but they also need not provide any sensitive data such as bank details or credit card information. Because we will only ask for information which is already provided during the ordering process, the conversion rate increases by an average of 20% with AfterPay.
3. 100% payment guarantee
AfterPay uses extensive expertise and data material. After an identity and credit check, we assume the full default risk. This minimizes your risk and increases the satisfaction of your customer
Benefits for your Customers?
Flexibility:
With Consumer finance platforms like AfterPay, your customers can control when and how they would like to pay. After the delivery, they can pay their invoice, which they receive by email, within 14 days. Your customers can also conveniently and easily delay their payment via the MyAfterPay customer portal or convert the order to pay in installments.
2. Control
Your customers can view and control all purchases and payments. The AfterPay service can be processed entirely via the smartphone or tablet, from the payment option selection in the online shop to the receipt of the invoice by email.
3. Comfort: Your customers can deposit their payment data in the customer portalMyAfterPayand pay their bills easily and conveniently with just one click.
Technical Implementation of Afterpay on Your VPCART Store
Flexible
AfterPay is directly implemented in your store. In this way, you will always have the latest features without having to run manual updates.
Easy
Through a Payment Service Provider, you can use AfterPay as server-to-server integration or as a widget.
Quick
Our pre-configured plug-ins can be integrated with your VPCART 9.0 Store
Ready to get started, install AfterPay to your VPCart store Now
Yet to upgrade to V 9.0, Do so NOW!!!!
Comments