Have you Heard About The VPCART Facebook Feed Module?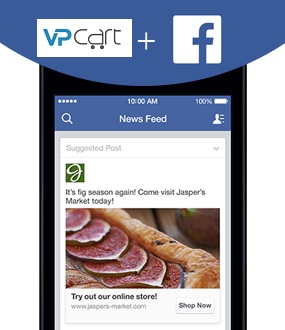 3mins Read
Social media is one platform that just can't be ignored if you want to stay ahead of your competitors. However, customer engagement on such a platform is not an easy task. With so many distractions available, keeping the prospective customers hooked to your profile is a tedious and time-consuming job.
Worry no more! As the VPCART facebook module offers an effortless way to keep your Facebook page happening with minimal efforts. The VPCART Facebook module is an amazing addition to your marketing arsenal; it allows you as the store owner to post your product on the wall of your Facebook Page automatically. Along with the product, you can even the category and the brands to be displayed on the Facebook wall.
Features:
The Module allows you to:
Merchants to post their product on the wall of their Facebook Page automatically.

Get Low Stock Alert displayed on the wall.

Displays New Arrivals on the Facebook page.

Can be configured without any technical assistance

Easy to Install, Use, and Understand.

SSL Compatibility

Multi-Store Compatible

Does not conflict with any other module on your store
The Benefits:
They can even see the

new arrivals

of the store without

actually visiting the store

.

Customers can now get a view of the

products available

on the website through their

Facebook

account.

VPCART Facebook Wall Post Plugin makes

shopping easier

and even more

fun for the consumers

.

The voucher displayed on the wall post can compel them to place the order.
Upload a data feed file to a catalogue
A data feed is a spreadsheet file that allows you to bulk upload many items to your catalogue at once. You can either upload your file as a one-off upload or set scheduled uploads to update your catalogue hourly, daily or weekly. The Data sources tab is where you upload and manage data feeds in Catalogue Manager. You can have multiple data feeds uploading to your catalogue, but they must all contain different items.
Before you begin
Create a data feed file

that contains information about your inventory. Make sure that your file is in CSV, TSV or XML (RSS/ATOM) format and includes the

required fields

for your inventory type.

Optional: If you want to set up scheduled feed uploads, you'll need to save your file on a file-hosting website first and have your URL ready. Learn more about

scheduled uploads

.
Getting bored with the many technical words and numerous procedures? Then sign up for the VPCART Facebook Module. The Module offers a smooth and flawless means to grab some extra attention from their customer on Facebook.
Generate sales among your website visitors
When you set up a Facebook page and connect your product catalog, you can use dynamic ads to reach shoppers when they are on Facebook with ads for the products they viewed on your website.
Ready to get started? Visit our Product Page and add up this amazing tool to your selling arsenal.
The module is available for versions 9.0. Yet to Upgrade, hurry now and join the winning crew
Comments