Tactics to Help You Generate More Revenue from Shipping in this Holiday Season
Tuesday, December 10, 2019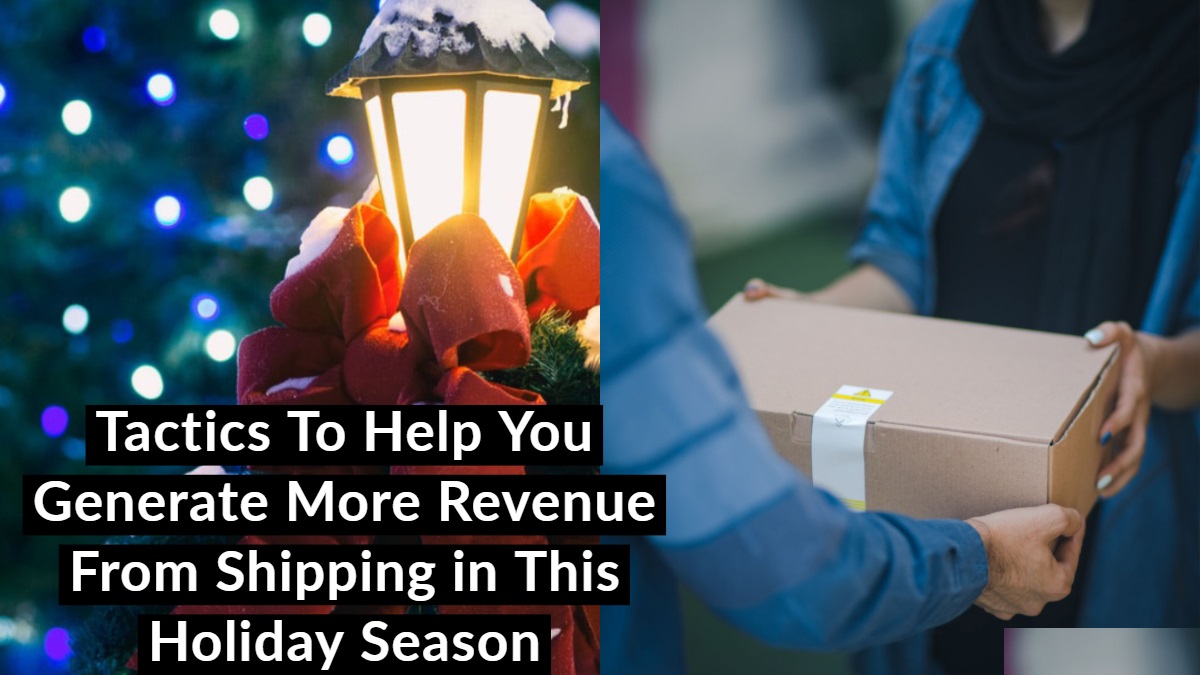 4Mins Read
No time of the year is more critical for shipping than the holidays. Poor or sloppy shipping efforts have a direct impact on the bottom line in terms of lost revenue and increased costs. Every year, the cost of shipping increases alongside customer demands for shipping accuracy and speed. The more matured the eCommerce industry gets, the higher the expectations.
Listed below are some few helpful tips for staying on top of shipping this holiday season:
Make sure your holiday offers have clear calls to action.
When someone lands on your website you have mere seconds to grab his or her attention. During the holiday season, that window of time is even smaller. Make sure that your holiday offers all feature clear calls to action that instantly command the attention of your visitors. You need to trigger an action as quickly as possible before your visitors can become frustrated and leave your site to find another option.
Endeavor to send your traffic to pages on your website that are directly related to the offer that is causing consumers to click through to your site. If you are advertising a particular product, send them to the page on your website where they can quickly purchase the item.
Adjust your sales/lead funnel for quick conversions.
A typical sales funnel is designed to nurture leads and gently convert them into sales. Time is limited during the holiday season, but even more important, consumers need not be nurtured as much. They are planning on buying whether it's from you or your competition is left to be decided.
Structure your email autoresponder sequences to "touch" your leads more frequently during the holiday season and don't be afraid to send more direct promotional offers. Typically, you wouldn't want to be too aggressive and overly promotional with your funnel-marketing communications, but during the peak holiday season, consumers are actively seeking specials and deals.
Focus on providing an excellent experience for mobile visitors.
Almost 40% of all eCommerce purchases during the 2018 holiday season were made on a smartphone, with 80% of shoppers using their mobile phones inside a physical store to either look up product reviews, compare prices or find alternative store locations. As consumers become more comfortable conducting eCommerce transactions on mobile devices, you need to make sure your entire website experience, from browsing to checkout, provides a pleasant user experience. If not, your visitors will leave and find a website that does.
First, run your website pages through Google's mobile-friendly test to make sure the search engine deems your pages mobile-friendly.
Upgrade to VPCART 9.0 for a better mobile experience
Use exit-intent pop-ups to convert abandoning traffic.
When you hear the term "pop-up," don't automatically associate it with intruding and invasive. They don't all have to be that way. While you don't want a pop-up to fire as soon as a visitor hits your website, using one with exit intent is a great way to convert abandoning traffic.
Most visitors that leave your website will never return, so why not attempt to convert them one last time? Presenting them with a special coupon code or an exclusive offer, such as free shipping, is often a great way to save some of those exits and turn them into revenue.
Enable remarketing across all of your online campaigns.
More holiday traffic means more "wallet out" visitors hitting your website that are willing to make a purchase and even when they leave your website without making a purchase, you can pull them back in through remarketing. This allows you to follow them as they browse the Internet — displaying highly targeted ads that feature whatever they were just viewing on your site.
Even though they didn't convert into a sale, the first time they visited your website, keeping your brand and offer in front of them can help you pull them back in at a later time. This can vary from a few hours to a few weeks. Build your remarketing lists now across all of your online advertising campaigns.
Consider offering 24/7 support during peak holiday shopping days.
During the holiday season, a large percentage of your traffic is visitors with an intent to purchase. To maximize your conversion rates you need to eliminate any questions they might have that stand in the way of them converting.
Offering live chat on your website allows your visitors to get answers to their questions immediately. When you eliminate the wait for an answer, it increases the chance of visitors purchasing while they are still on your website.
You can also set triggers to help save sales and if you are operating on a limited budget, you could even consider hiring a virtual assistant like Olark, or Rhino to handle live chat during this period.
The most lucrative eCommerce days are right here and as the pressure continues to increase for faultless shipping, it's important to stay ahead of the curve. These are simple tips that will make your eCommerce operation seem bigger, better and will make you more equipped to handle increased customer demands, all of which will help increase your revenue and end with a solid final quarter of the year.
Comments