Simple Ways to Grow Your Brand on a Limited Budget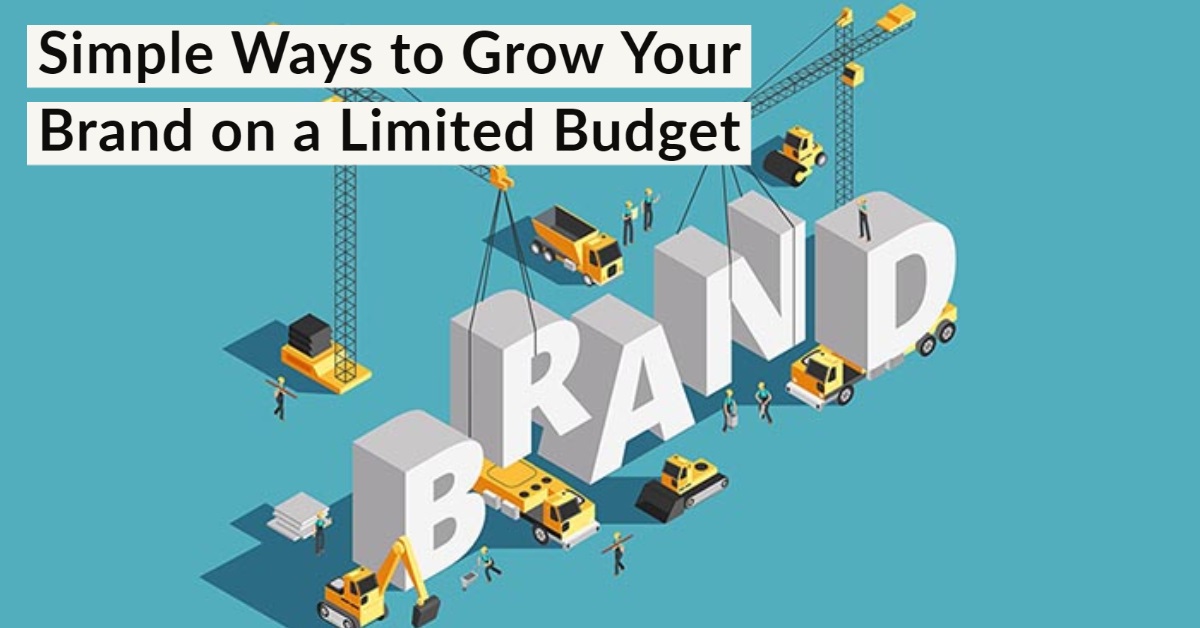 7mins Read
Excellent branding ensures a stable brand statement applies to the ever-evolving consumer trends. A successful brand conveys a sensibility and, ideally, membership in a certain "tribe".
All businesses require branding. Yet, as an ecommerce entrepreneur, the task can seem daunting with questions like,
a. How will you stand apart from other online businesses?
b. How will you communicate your company's brand values to your intended customers?
Well, the good news is, if you are looking for ways to answer those questions stated above, Here are ways to build a brand on a limited budget.
Create a persona to understand your audience.
You've probably heard that knowing your audience is the key to creating marketing messages that appeal to them. A great way to get to know them? Create a buyer persona — a semi-fictionalized representation of the values and characteristics of your ideal customer.
Personas outline the challenges of that customer and where your business fits at solving their problems.
The needs, goals, and behavior of your potential customers dictate how you convey your product or service.
Understanding those goals helps you determine what kind of media your personas are consuming, what motivates them, and where they "live" online. This information allows you to develop a compelling, effective brand that reaches the right people.
Let Them Hear Your Brand Voice
Once you've identified your buyer personas, your brand can start to take shape. Create a brand identity — what makes your brand, your brand — and its voice, which is the tone you use in any copy or public communication.
Developing brand voice and identity is similar to constructing your personas. But instead of answering questions about your target audience, you're answering questions that are more introspective to your brand:
What are your company's values?
What do they represent and?
How do you want people to talk about you?
When you have answered these questions, you should also focus on creating content that supports them. Craft compelling emails, blogs, social posts, and multimedia that reflect your company's mission, values, and how you want to appear to customers.
Create a consistent social media presence.
Now, we have an idea of what and how to create messaging that connects with them. To do that, you need to check the following.
Determine the needs and desires of your target customers.
Consider your brand's voice. How will you convey what you offer and what your brand represents, to these specific people?
a marketing strategy most likely to reach and serve these people, e.g., a video series versus a standalone blog.
Concentrate your content development efforts here and plan a regularly scheduled publication plan.
Since you have a clear picture of what your audience is interested in, next, figure out where they're spending the most time on social media. We've talked about how effective it is to reach people where they're already present, and that includes their online behavior.
If you find the majority of your audience prioritizes one social network, you'll have an idea of where to allocate your resources. But don't ignore other sites. When you build a presence on multiple social media platforms, you'll have an opportunity to diversify how you reach audiences. Diversifying the methods and channels you use for obtaining new leads helps you to connect with as many potential customers as possible.
Build a Social Community
Businesses, and their brands, reap rewards by building a community.
A social community works when it delivers genuine conversation and connection. Build a community based on shared interests and you get the benefit of unique voices. Do this and a brand voice will strengthen naturally as like-minded people interact.
Social communities also offer some sales advantages. When people open up in a community, the business derives a greater understanding of customer motivations and needs. This, in turn, yields insights into products and services.
Make customer service a priority
Experts say that customers are liable to buy more from a business that makes them feel wanted and special. They are even more likely to revisit that business in the future when the need arises.
This revisits the importance of your identity and voice. As you go through these brand-building steps, think about the values you want your audience to experience, like excellent service. Those values shape the brand's culture, and that influences the voice you project to an audience.
Piggyback on Competitor Success
Larger, more established competitors have already done a lot of homework on your behalf.
Some of these efforts will be too costly to emulate. However, by studying your competitors you can deduce some of their reasoning and determine where you can compete. Aim not to copy directly but find your brand's unique take.
Some ways to "piggyback" success online:
Choose similar brand awareness tactics, such as targeted Instagram posts
Bid on the same (or similar) keywords in ad campaigns
Research packaging, shipping, or delivery methods (all of which play a role in brand perception with physical goods)
Insert yourself into conversations that are relevant (carefully)
Host a Webinar
A fantastic way to grow your brand — and earn leads — is to leverage these talents into a webinar, and promote them online.
By optimizing your class with hashtags and witty captions, you'll find audiences that are interested in the talents for which you're offering lessons. These webinars can be a 45- to 60 mins session that provides an overview of your special expertise, how to do it right, and how to use your own strategies to illustrate.
In Conclusion
Create a system that ensures ongoing communication, so you're always visible. Be newsworthy and make the time investment to seek earned media coverage. Build a social community that delivers value.
Review your competitor's efforts and figure out how you can compete. Reward your best supporters in non-monetary, but emotionally satisfying ways.
Comments