Managed hosting and how it can help your eCommerce business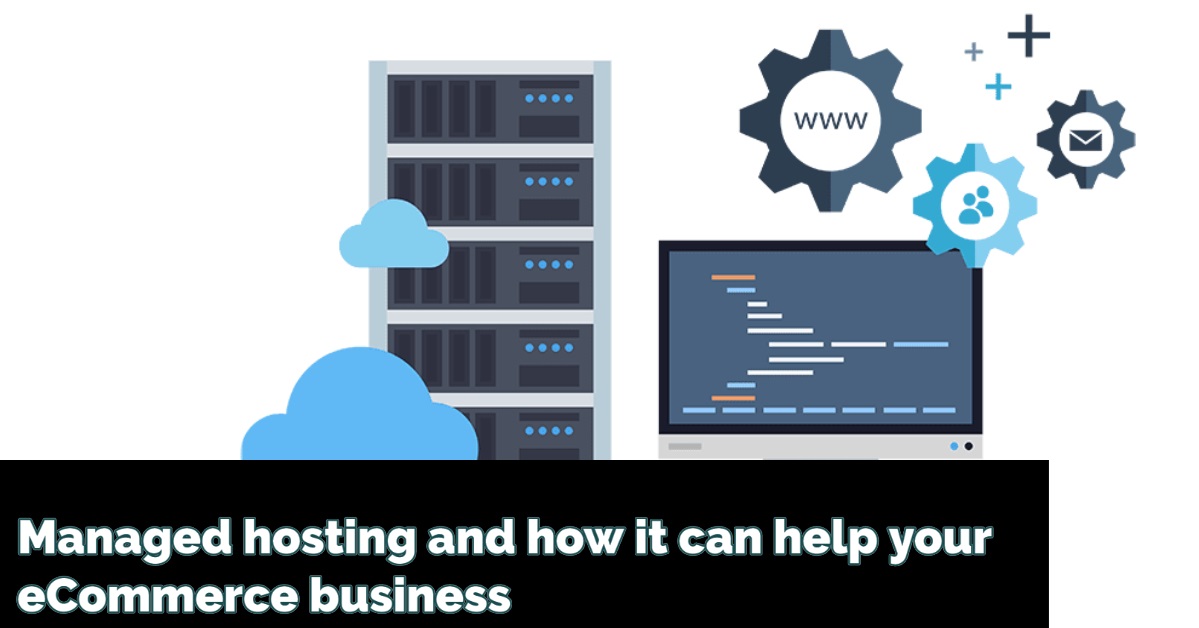 5mins Read
These days eCommerce websites are running like people in the streets of a busy city. Every offline business is trying to sell its products or services in the digital market, to increase their number of sales and even being benefitted, thus they are maintaining the eCommerce portals to a great level. Now while we are maintaining these eCommerce websites, we have to take care of a lot of supportive factors that make the process build up.
What managed hosting does to the eCommerce websites are not a very simple thing to explain, it has a lot of connecting processes running that makes it happen.

Before going into what managed hosting is, I will briefly explain the different types of hosting services.
Dedicated hosting
Dedicated hosting is similar to managed hosting in that the service provider leases a particular server to just one client.
However, the chief difference lies in the fact that these servers come pre-configured and you do get little choice when setting up the servers.
Cloud hosting
With cloud hosting, the consumer can access various hosting resources via the internet. Cloud hosting networks provide a great deal of flexibility in adding or removing memory as and when needed with ease.
A lot of the headache that goes along with configuring servers and calculating space requirements and changes in advance isn't there.
What is Managed Hosting?
Managed hosting is a service that can be provided by the web hosting companies when you run an eCommerce website on the dedicated servers, cloud, or VPS networks. If you know that, no two different managed hosting is the same, which means your service provider is supposed to administrate the hardware, operating system, and system software.
Generally, the hosting provider sets you up with the following services, namely
1. set up — Full installation of the control panel and OS. The buyer has administrative access but rarely accesses that. Generally, the managed hosting is accessed by the client via the control panel virtually.
2. Monitoring — Server, network, databases, and Apache monitoring. Ping monitors run simultaneously for server and network uptime, and monitors website uptime.
3. Security Scans — Most managed hosting companies offer monthly security scans. These scans ensure that no virus or bug hosts itself in the system. The reports are reviewed too.
4. Application Support — Installation and update of supported applications.
5. Patching — Official operating system and application patches, updates, and bug fixes.
6. Troubleshooting— If the server faces any problem, a dedicated staff would take off those problems.
7. On-call maintenance — Pick your phone and call the staff at the hosting company to do the maintenance work on the servers
8. Hardware upgrading — You need not worry about maintaining the hardware or upgrading it.
9. Software upgrading — The IT staff at the hosting company takes care of the software upgrades for you on time.
10. Backup services — Most managed hosting providers take daily or weekly backups of the site data. In case of an emergency, you can contact them to get the files back.
What benefits can a managed hosting service provide?
Obstructive management
It is known that the best advantage of bearing the managed hosting solution is to protect the unwanted problems happening. Software compatibility checks are a must, along with other protections for security scanning, monitoring the performances–all that helps the service provider to detect problems and give respective support, primarily in the initial stage before it turns out to be a major error in the network. This proved to be of immense help, especially for the e-commerce websites that often encounter site requirement errors and are not equipped with in-house technical experts to solve immediate issues.
Website loading speed
Generally, websites that load slowly are a source to affect the search engine ranking, and customers are seen turning away. It is calculated that every unnecessary second in time that is consumed by your page for loading is costing you a 5% to 8% of turnover. Out of all, some of the websites' slow down tendency can be optimized from the configuration of the website. And sometimes it can happen because of server speed.
But, when you opt for managed hosting your server is thoroughly monitored to detect all sorts of performance issues. As a result, your e-commerce website remains safeguarded with the managed hosting service and helps you in loading the site in normal speed and engage and keep your customers in your portal.
Security
e-Commerce websites face the highest of security threats in compared to all other types of websites we know, not only security threats to the site but also to the users of the portal. Some common threats are like hacking information, DDoS, ransomware, theft of data, infections, and many more which never stops rather increases. The service of manage hosting takes care of the security systems for you, such as preventing the intrusion, blocking the viruses along with securing all your data to offer you a secured service for your network that deals with your products or services.
Cost reduction
The company should have the needful person who holds the expertise to run the hosting solutions from the in-house team to avail of a similar standard of hosting solution as the web hosts will offer. This means an additional employment cost to be added for the company expense, which could be easily reduced by availing the managed hosting where they offer you 24/7 support even technically.
Who should consider managed hosting?
If you aren't fully aware of the technical details behind configuring servers and setting up your hosting, then a managed hosting service where the provider takes care of most things for you will be perfectly suited to your needs.
Managed hosting solutions work best for clients who cannot spare the time to learn the tech behind hosting or run behind it whenever they face a problem.
If you are running an eCommerce venture, then it's likely that you'd want to spend more time on business generating activities rather than managing hosting servers.
Final thoughts
Managed hosting takes the pain out of running and hosting your business. You can run your business while the experts take care of the traffic problems for you.
Comments