Introducing the Brand New VPCART 9.0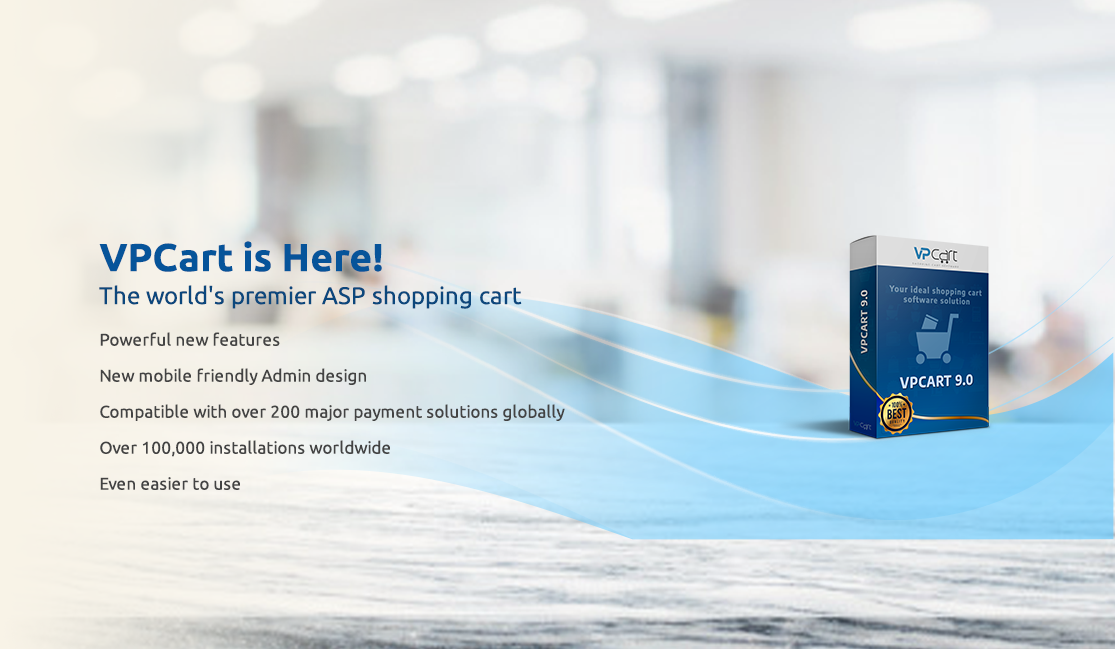 The long wait for the new VP CART 9.0 is finally over!
We have finally released VPCart 9 AND updated our website using the new version to create a fully responsive and flexible new site.
The new and very much improved VPCart 9 is jam-packed with amazing new features specially designed to bring you the best results for your business. From improved customer check-out time to enhanced security functions and more Admin oomph, VPCART 9.0 has been, in our very unbiased opinion, truly worth the wait.
So what's new in VPCart 9.0?
In VPCart 9 we have developed an almost completely new shopping cart with features set to benefit our merchants, partners, and third-party developers.
Below are some of the exciting features you will discover when you sign up for the new VPCart 9.0.
Responsive Administration Panel:
Need to manage your store on the go using your mobile? We've got you covered!
VPCart 9.0 has a fully responsive and mobile-friendly admin interface that allows you to manage orders, products, customers and customizing with ease, saving you more time, to manage your store on the go with a mobile-friendly admin manager that will help boost your business to the next level while letting you escape from your desk.
Abandoned Carts?:
Getting a lot of orders from potential customers that don't go the final yard?
We have integrated a powerful Abandoned Cart Notification system into VPCart 9.0. Send out email invitations with the click of a button to help close those orders from customers who have added items to their cart but left before completing checkout. The perfect addition to your sales arsenal!
Powerful mega meu:
Looking for a sexy, intuitive menu system to help your customers get straight to exactly what they want to buy? Here you go! Our new Mega Menu will help improve your conversion rate by allowing fast and easy access to your categories, products and content pages. The faster your customers can find what they are looking for, the more likely they will close the sale!
Now, you have a Design Manager?!
Want to change the look of your site yourself? Publish your site quickly with colorful themes and designs with our Design Manager. Regardless of how much experience you have with web design, the Design Manager makes it easy to completely alter the look of your site for colors, images, banners and even how many columns each page has. Whether you want your VPCART site to be flashy and fun, straight-laced and professional, or any style in between, you'll find what you're looking for here. Spoiler alert, it is VERY easy to use!
Looking for deeper integration with Google Tools?
Google Product Feed for Variants:
Let your shoppers find and buy products across the web. As a seller, you can submit your products to Google Product Feed, allowing shoppers to quickly and easily find your site.
Google Product Reviews:
Use Google's powerful automatic review follow up system to help build trust for your products and site.
Google Address Auto-suggest:
Reduce the friction in the checkout process by providing a single, quick entry field with 'type-ahead' address prediction that can be used to automatically populate a full billing or shipping address form.
Product Matrix System:
Sick of trying to keep track of your stock? With VPCart 9.0 we have introduced an advanced Product Matrix System. You can now easily and accurately keep track and update your product variant stock levels such as size and color using our powerful Product Matrix System.
Live Currency Rates Converter:
Ensure your product conversion prices are 100% accurate, all the time. When shopping your customers can now change the currency to their local currency and be assured the rates are, if you will excuse the pun, on the money!
Time-Delayed Holding of Stock during Check out:
Do you sell stock level sensitive products such as event tickets? Then you need our new Stock Hold feature! Temporarily reserve or hold products when the customers add them to their shopping cart. VPCart 9.0 reserves those products for a preset period before they become available again to other customers. Isn't that lovely? More stock control to you!
But I purchased an upgrade last year and my license has expired.
This is a big one! Did you purchase a new VPCart license or a license renewal from between Jan 1, 2018, and July 31, 2018, thinking VPCart was going to be released shortly? If you did then as a gift from us to you get to download VPCart 9 Plus all of the free add-ons for free!!!
This offer is valid for now till the end of September 2019!
So hurry and jump onto our upgrade page and grab VPCart 9.0 for free while the boss is looking the other way. To take advantage of this offer just click on the following link:https://www.vpcart.com/sales/upgrade.asp
Want to know more about Version 9.0, visit https://www.vpcart.com/virtprog/vpasp900_planning.htm
Have some questions? Get in touch via email[[email protected]], live chat[www.vpcart.com] or even using old technology and give us a call!
VPCart 9.0, Do More, Achieve More, Sell more!
Comments