How to grow your audience on Instagram using Creative Hashtags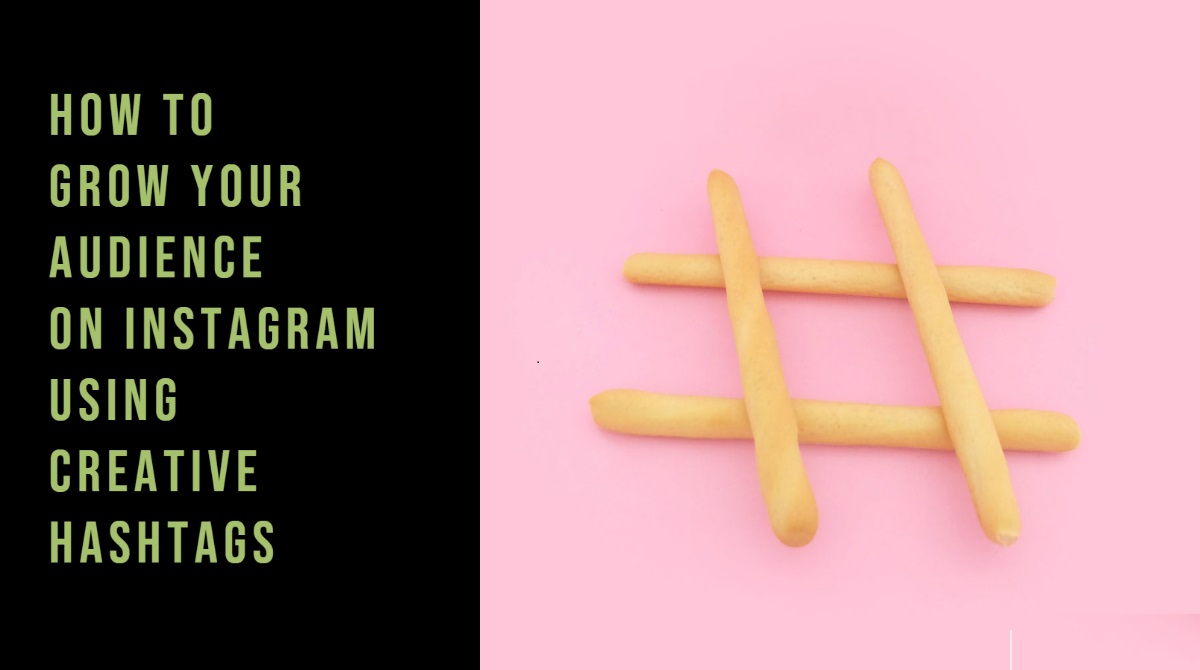 10mins Read
Instagram is one of the most popular social media platforms on the planet, and it can be used in a variety of ways to draw in customers to your eCommerce business. You can promote your latest products, acquire new customers, and communicate directly with your existing followers.
So if you want to sell online, then you should be looking for top hashtags for your Instagram page. Hashtags are important, they are like your own Google Keywords for your customers to discover your store on Instagram, just think of them like road signs that tell people where your store profile is.
And this is why you as a business brand on Instagram need to know how to use hashtags to get the most value out of them?
Once you start using hashtags on Instagram, you might probably run into plenty of questions: Questions like, which hashtags are leading followers to your page? What are the most popular tags in your industry? How many hashtags on Instagram do you tack on a typical post?
This guide breaks down everything you need to know about how to use hashtags for Instagram to grow your audience. So let us get started,
What Is an Instagram Hashtag?
An Instagram hashtag is a singular word or a series of words, that is marked with a hash symbol (#) and is used in an Instagram post's description or comments section. The main purpose of these hashtags is to help Instagram organize and categorize content – they help the platform to let present the right content to the right users. If you are a frequent social media user then it is likely that you've already seen hashtags in action. Heck, you might have even used them yourself without knowing how to unlock their full potential.
Benefits of using Hashtags on Instagram?
Instagram hashtags have multiple different purposes — here are a few:
Gain More Likes: Instagram users who are interested in a particular field are likely to search for hashtags that are related to it. When you use Instagram hashtags with your content you'll be giving yourself a chance for said users to access your content, and in turn, find out more about your brand — this is why it's a good idea to find out the best Instagram hashtags for likes.
Gain More Followers: Instagram users who are interested in a specific niche are always looking for more content that is related to it. Using the right Instagram hashtags is one of the best ways to gain a higher following on Instagram. It extends your reach, enabling your content to be discovered by more people. If they stumble across your account through Instagram hashtags and they find that you're posting content that is relevant to them, they're likely to follow your account. This is a great situation for any eCommerce entrepreneur, as you'll be able to promote your products and your brand to users who are already engaged. So basically, using the right Instagram hashtags is a great way to improve your visibility on the platform.
Make More Sales: Instagram hashtags aren't just about growing your eCommerce business' social media following. While this is a valuable outcome from using Instagram hashtags, you can also make more sales by using them for your eCommerce business' account, especially if you find some of the top Instagram hashtags in your niche. If you use niche specific hashtags when promoting one of your products then you're likely to draw the attention of users who are likely to purchase something related to this content. This means that you'll be able to boost your store's sales with well thought out Instagram hashtags used in combination with compelling content.
How to Find the Best Instagram Hashtags
Now that we've touched on how Instagram hashtags work, it's time to explain how you can find the best Instagram hashtags for likes. When you're using Instagram for business it's a great idea to take some time to research what the best Instagram hashtags for likes are, especially those which are relevant to your niche and audience. Remember, data-informed decisions are always best when you're marketing your business.
And you don't necessarily need to use the most popular Instagram hashtags to increase engagement with your posts. It could end up being more effective if you use the Instagram hashtags that have a lower reach but are more relevant to your audience. The main reason we want to use hashtags for Instagram is to get increase the chances of people landing on our content – but we always want to think about who are the "right" people that we want to draw in.
That's why we want to be strategic about the Instagram hashtags that we use. So, here are our top tips for finding the best Instagram hashtags for your content:
Research Your Audience
Adding in random Instagram hashtags at the end of your Instagram posts probably won't bring you much success. Instead, look at what your audience is interested in, and find what they're searching for. If you add in hashtags that include keywords that your audience is looking for, you'll instantly raise your chances of being found.
Research Your Competitors
By looking at what Instagram hashtags your competitors are using you'll be able to get an idea of which hashtags provide the most engagement. This is especially true for "bigger brands" – they've likely already researched to find out which are the best hashtags for Instagram in their niche. Now, this doesn't mean that you have to compete or copy those exact hashtags in your own Instagram posts, but they might end up giving you a better idea of what your posts should look like.
Research Instagram Influencers
Instagram Influencers are those people that perform exceptionally well on social media. They typically have thousands of followers, and they rely heavily on creating messaging that resonates with their audience – including the Instagram hashtags that they choose. One of the best ways to learn which Instagram hashtags to use is to look at the top influencers which are relevant to your brand. You'll be able to tell a fair bit from analyzing which hashtags they are using and the engagement that they are getting on their posts.
Use Tools
There are a variety of different tools that are available which will provide you with information about the best Instagram Hashtags for likes. It doesn't matter what your online store's niche is, you'll still be able to find hashtags that are relevant to your content.
So, How many hashtags to use on Instagram?
Instagram allows up to 30 hashtags on each post but some experts say that it makes your post looks spammy. So they advise you use 5 or 6 per post while others argue that using 11 gets you the best engagement.
Well, it might interest you to know that a more recent study shows that posts with 11 or more hashtags get the best engagement.
Find Instagram Hashtags for Authentic Followers
If you are on the hunt for what is hot in your industry, look no further than trending hashtags but to make sure you attract authentic followers and your ideal audience, you want to carefully choose your hashtags for your specific business and images.
Be aware that some hashtags attract spammers and certain types of photos that you might not want to be associated with. The easiest way to avoid this is to check out every hashtag you plan on using to make sure you're happy to be seen there.
What is a 'Spammy Hashtag?'
The major culprits in this field are #instagood, #happy, #love and #followme to name a few. These hashtags should be avoided if you do not want to be spammed with a whole lot of smiley faces[a], or "follow me for free followers" comments.
You can easily recognize the hashtags to avoid as they will have well over 100,000,000 posts on them. Checking how many photos have been posted on a specific hashtag not only helps you weed out the spammy ones but also allows you to find those smaller to mid-range hashtags that will help you stand out.
How to find out the density of hashtags?
To figure out the number of photos posted on a specific hashtag, simply type the word you would like to use as a hashtag into the search bar on Instagram. Then check the number under the hashtag, as shown in the photo below. This number tells you how many photos using this hashtag are floating around Instagram right now.
What is a good size 'Hashtag Density'?
To attract people who are interested in your posts, It is recommended that you find Instagram hashtags that have under 500,000 posts on them (unless you have a bigger following or an engaged audience, then definitely try working with bigger hashtags). It also will not hurt if you include some hashtags that are 20,000 or under. If you decide you want to use some larger hashtags, make sure you research them carefully first. You want to avoid anything that is loaded with photos offering a "million-dollar lifestyle overnight" or other spam.
Listed below are examples of some popular hashtags
#love
#instagood
#photooftheday
#fashion
#beautiful
#happy
#cute
#tbt
#like4like
#followme
#picoftheday
#follow
#me
#selfie
#summer
#art
#instadaily
#friends
#repost
#nature
#girl
#fun
#style
#smile
#food
Need some more ideas?
Look at any of the Instagram accounts run by your favorite magazines or websites in your specific market. Many will feature photos that fit their style. All the information on what hashtag to use will be in the bio section of their Instagram page.
So there you have it. Your go-to-guide for using hashtags on Instagram, to attract authentic people who are looking for exactly what you have to offer. Use the suggestions in this blog post and you will be in hashtag heaven in no time, attracting more people to your Instagram account.
Comments