How to Engage your Customers with Post-Purchase Email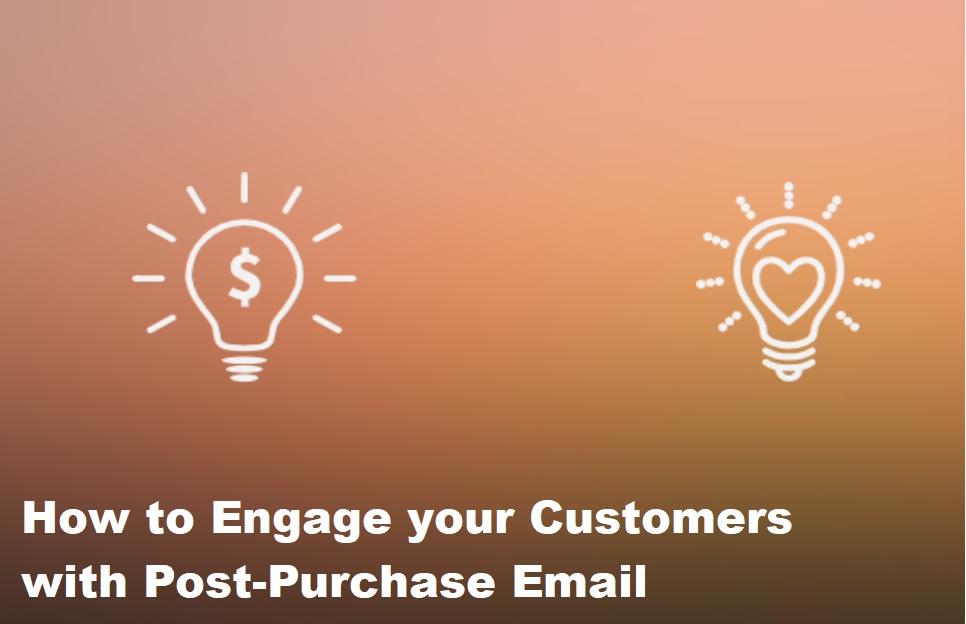 4mins Read
Yaaaaaaay, you just clinched another new customer. That is great news and something worth celebrating. But before you pop the happy bells, you need to have some serious thoughts about the next step in your sales process.
"For a business to thrive, it must provide customers with long-term value that translates into repeat purchases and, thus, increases the customer's lifetime value to the company. And that is where carefully crafted post-purchase emails come in," says entrepreneur and marketer Danny Wong.

As it is generally known in the business world communication plays a critical role in fostering customer loyalty. To transform buyers into die-hard advocates, it's important to improve your post-purchase emails.
Convincing someone to make their first purchase can be difficult, but once they've started doing business with you, they're much more likely to come back. This is called the "foot in the door" philosophy, and that is why post-sale emails are so effective.

Here are some ways to engage customers with email after a sale. Best of all, you can automate these emails to nurture customer relationships (and repeat purchases!) with minimal time on your part.
1. Send thank you emails
A simple "thank you" goes a long way. Everyone likes to feel appreciated, and sending an email after a purchase lets customers know that they're not just another number. They could have spent their money anywhere, but they chose you.
Online shopping removes the physical aspects of shopping: walking into a store, picking up an item, and handing over a credit card. A follow-up "thank you" injects humanity and gratitude into otherwise faceless online transactions. Post-purchase emails tend to have a 217% higher open rate and a 500% higher click-through rate than other types of emails.
2. Send Relevant Information
In the world of email marketing, relevancy matters to your customers. If it doesn't offer value or bring an inkling of benefit to the individual, there's no reason why they should care.
New customers might need a little help in understanding how to use your products or services, especially true of gadgets and apps that need to be configured. Sending a product guide or tutorial is beneficial for your customers — and there are advantages for you. Educating customers can reduce the number of post-sale inquiries and product returns. Do customers always ask the same questions after buying a particular product? Answer them in a "handy tips" email.
If you already provide physical instructions when shipping your product or have FAQs or documentation on your site, don't worry about doubling up — there's no such thing as helping your customers too much!
3. Ask for Reviews
Reviews provide social proof — shoppers trust the opinions of others. Kind words from a real person who hasn't been paid to say nice things about you are powerful. Nearly 95% of shoppers read online reviews before making a purchase.
Reviews also give you valuable information about the customer's experience and the quality of your products, which you can use to improve your offerings.
Good reviews, after all, bring a lot of credibility to your company. One of the best ways to snag those important reviews is to ask your customers right after they purchase a product or receive a service from you. The general idea for asking for reviews is to strike while the iron is hot.
4. Engage Based on Behavior
You can determine which post-purchase messages to send based on customer behavior, like purchase amounts, website visits to a specific product page, date of last purchase, or a combination of these actions.
Let's say you want to invite only your most loyal customers to a VIP rewards program. You may segment your list to deliver this post-purchase email to customers who've purchased more than $5000 in the last month and rated your support team with 4 stars or above.
If you sent the same email to everyone on your list, you may engage people still getting to know your brand. Consequently, they would not be ready to be part of the loyalty program.
5. Send Replenishment Emails
Replenishment emails remind customers to reorder a product before they run out. They're effective because they get people into the habit of buying from you. And habits, once in place, are hard to break.
Let's say you run a WooCommerce store that sells dog treats. If your treats come in packs of 20 and you know dogs typically get one a day, you might want to send a replenishment email 13 days after the purchase — a week before the treats run out. This encourages customers to reorder from you rather than buy from another store, especially if your checkout process is quick.
6. Ask for Referrals
The most credible form of advertising isn't advertising at all — it's recommendations from people we know and trust. 92% of people trust word-of-mouth recommendations. Referral marketing turns happy customers into brand advocates.
You can't count on loyal customers to tell their friends and family about you — you need to incentivize them. Use a referral email to give them the push they need. You might even want to offer them a discount or free product when someone they refer makes a purchase.
7. Evaluate Email Frequency
Your customers receive emails on a daily basis, whether it's from their best friends or work colleagues. So knowing how often to send an email is just as crucial as the content of that email.
Nailing down the right email frequency for your target audience helps you understand when to engage and when to leave your customer alone. People need personal space online, too. Your post-purchase emails can add up fast. There's the order confirmation, the shipping confirmation, the product review request, and the reorder email. And don't forget your five-part welcome campaign.
Before you know it, you've sent your customers 10 emails in one week. Sending lots of emails in a short period can lead your subscribers to email fatigue. This problem results in customers ignoring and deleting your emails or worse, unsubscribing from your mailing list.

Swamping customers with emails isn't ideal. So try to assess the value of each message and whether another email helps or hurts your brand.
In Conclusion
Revamp your post-purchase email by staying relevant to the recipient's needs. Send emails that engage customers based on their behavior, not unfounded hunches. And optimize your campaigns by running experiments.
Keeping in touch and putting your storefront of mind ensures customers come back to you when they're ready to make their next purchase.
Even better, you can automate the emails above with VPCART Newsletter Plugin.
Comments