Abandoned Cart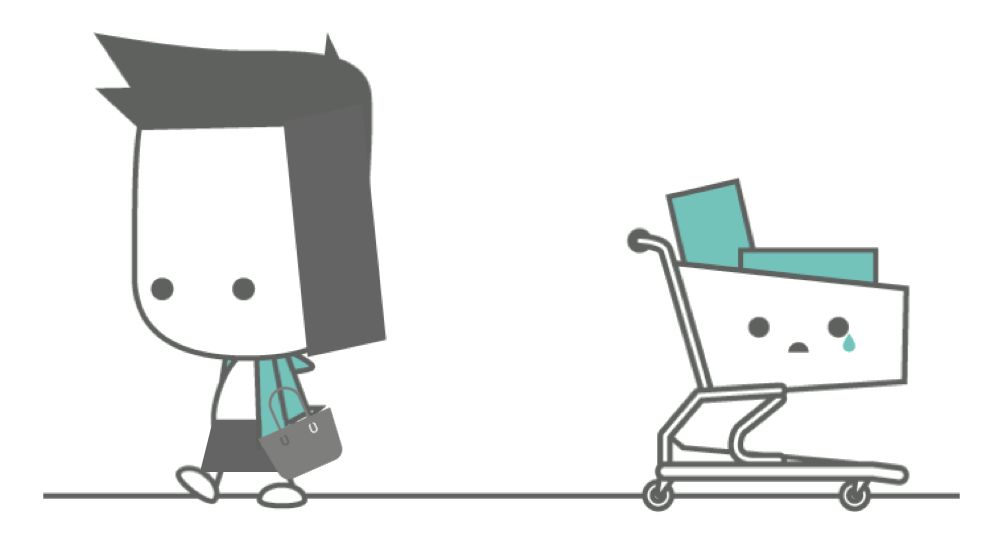 The global average cart abandonment rate currently stands at 76%, some studies place theirs as high as 80%, while other studies place theirs as low as 65%. The result based on device platforms showed that the average abandoned cart rate
For Desktop - 73.1%
For Tablet - 80.7%
For Mobile Devices - 85.6%
The truth is, no one knows the exact abandonment rate because it differs from one industry to another but the most pressing concern to all online business owners is the fact that the rate seems not to be falling. Annoying as it may be, it is a part of the e-commerce world that leaves a sour bitter taste that we all cannot choose to ignore. So to put it simply, out of every 10 people that visit an e-commerce website, there is a probability that 7 out of that 10 are likely to abandon their cart based on a reason that span from either psychological to technology.
Armed with this fact, it is necessary for every online business owner to implement good practices that would help reduce the abandonment rate thereby increasing the conversion rates and the general revenue. One of the easiest ways of getting this done is by simplifying the checkout process. The first step of your checkout process sets the tone for the entire checkout experience for the customer. This is when you are supposed to put forth your best impression, buying the customers' trust and commitment. But sadly, this is where we see the largest drop-off of customers in the checkout funnel.
In this post, we will be addressing the sharp disconnect that the customer goes experiences when they move from the Shopping Cart and Checkout page.
Poor quality images and product descriptions.
Most customers rely heavily on the product images of your store, along with a detailed matching description, yeah kindly read that again. If you currently have poor quality photos with limited product descriptions on your store, you might be losing some serious sales. Research conducted recently proved that most customers prefer a high-quality image with specific product details as it helps them make a better buying decision whenever they are shopping online. While some online business owners argue that using a generic product description from the supplier with an attractive price is all that matters but having an online store that offers the customer high-quality pictures and a uniquely detailed product description makes a whole lot of difference.
Checkout process.
Now I must state it here clearly, Customers hate complicated check out process, they want to know how many steps it will take to get to the finish line and they want it short and simple. So please try to avoid customers' frustration by offering a very simple One Page checkout process with progress indicators if possible. Also, it is advisable you don't enforce registration for checkout. Allow the customer to go through the process and decide whether they want to register and save their details at the end or not, in case they want to come back. Otherwise let them checkout easily as a guest, without the need for registering.
Hidden fees.
Most Cart abandonment as a result of this issue. Shipping rates should be shared upfront with the customer, at product selection. Hiding it until the very end of the transaction is guaranteed to get the customer angry. Provide your customers with a Shipping calculator that works based on the items they are interested in, considering their postal code.
Big screen, small screen.
The best e-commerce websites always create an online experience that makes visitors fall in love with the website and the products listed. The shopping experiences are somewhat emotionally guided which is meant to encourage visitors to add a product to their cart. With the world of e-commerce going mobile, your online store has to be properly designed to create such an experience for the customer even on mobile, you will be offering clutter, poor navigation options and incredibly difficult user experience for mobile users. Make sure your site is mobile responsive.
View VPCART 9 Features
Influence Your Customers' Action
You need to direct the customer to action. You have to state clearly what you want the customer to do on your site. Non-product pages should lead the customer into using a blatant and obvious call to action. You should never leave your customers into guessing what the next step is. You have to guide the user through your site, step by step, ensuring they perform the exact actions you want them to perform.
Actively Engage Your Customers
Be it social media, online marketing or the live help on your website, you have to actively engage the attention of your customers (Both Prospective and Existing). Use the social media to join in on conversations, they are e-commerce platforms that even allow you keep in touch with your customers via an online Forum and always remember to keep your products and services in front of potential customers or those returning.
If you really want to get those conversion rates up, you really need to start seeing things from the customer's point of view, Yes Pricing of products is a strong determinant of whether they would buy or not buy from you but if you choose to ignore the points listed above, you might be frustrating the customer rather than giving them a seamless and quite delightful checkout experience, which is very important for every online business that intends to go far.
Thank You
Comments