A KPI (key performance indicator) is a measurement of an event or occurance in a business. An example in ecommerce is
shopping cart abandonment
. Practical Ecommerce recently released an article titled '
21 Key Performance Indicators for Ecommerce Businesses
' - I have grouped together and discussed the 21 KPIs identified by PE as 21 is probably too many to effectively monitor, instead you should pick out four or five that you think are most important for your business.
Total visits,
Unique visitors,
Page views,
Page views per visit,
Time on site per visit,
New visitors -
All of these can be tracked in your free Google Analytics account (see below screenshot )and give a good indication of the amount of traffic visiting your site. Page views per visit & time on site per visit allow you to monitor how long visitors spend on your site, the longer the better and if you have a low average time on site it may mean that your store is ugly and scaring people off as soon as they land on your home page.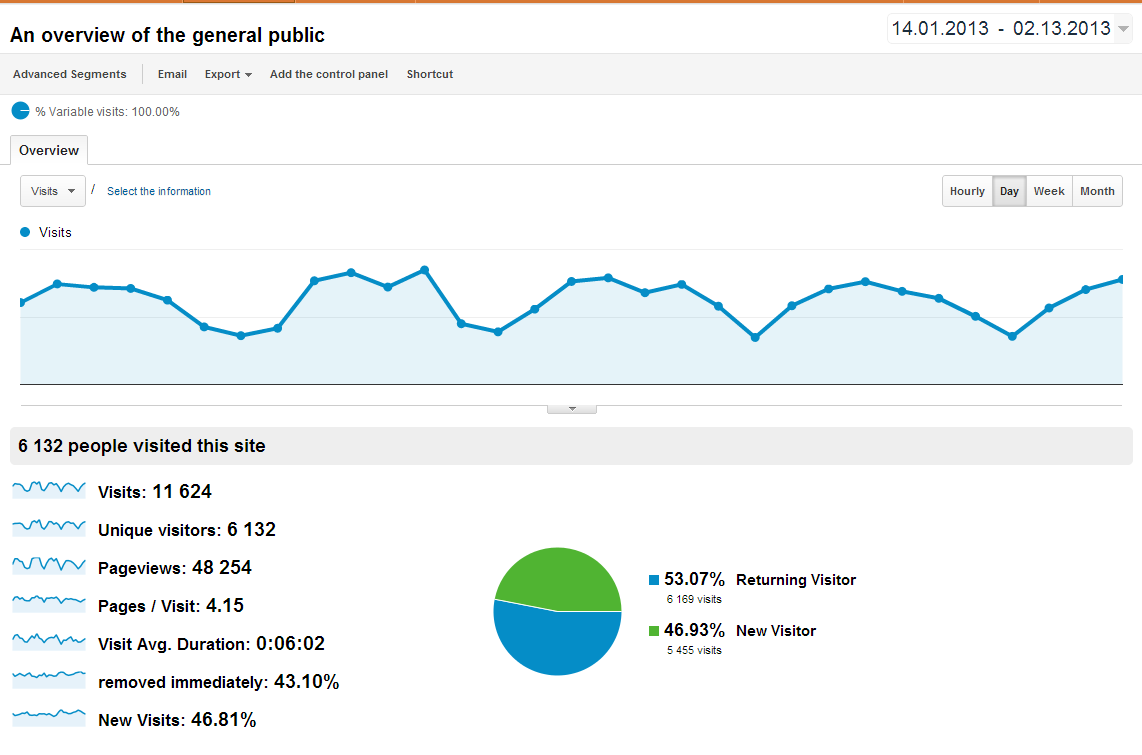 New customers
– This is a very important KPI as it indicates the growth of your business.
Total orders per day, week, month
– I would recommend monitoring total orders (old & new) per week as a useful KPI to combine with the one above.
Checkout Abandonment & Shopping Cart Abandonment
- You can monitor shopping cart abandonment by counting the number of yellow highlighted orders that appear in your order list. If you have a high abandonment rate, take a look at this blog on
reducing shopping cart abandonment
.
Gross margin
– A high revenue does not necessarily mean a successful business, monitor your margins carefully and if they begin to drop, act quickly to find out why.
Customer service open cases
– This is an important KPI as if you have a lot of undisputed customer service cases, those customers may express their unhappiness via social media / review sites. Ensure customer disputes are solved ASAP.
Pay-per-click cost per acquisition & Pay-per-click total conversions
– Only useful if you do PPC marketing and if you do you will be monitoring these anyway.
Facebook "talking about this" and new Likes
&
Twitter retweets and new followers
– Social Media Marketing is here to stay and there's no avoiding it. There are hundreds of resources available on the Internet on creating Social Media marketing campaigns, monitor these two KPIs to find out which campaigns work best for your business.
Email open, click, and conversion rates
– VP-ASP integrates with Campaign Monitor which is a great tool for this monitoring KPI of your email newsletters.
Referral sources: percent from search, direct, email, pay-per-click, other
– The most important marketing KPI as it allows you to see which marketing channels are most effective so you can put more effort into those while ensuring you don't waster any more time on those that aren't bringing in traffic.
Please let me know in the comments section below if you have any ideas or experiences of working with these KPIs.
Happy Selling!
VPASP Shopping Cart