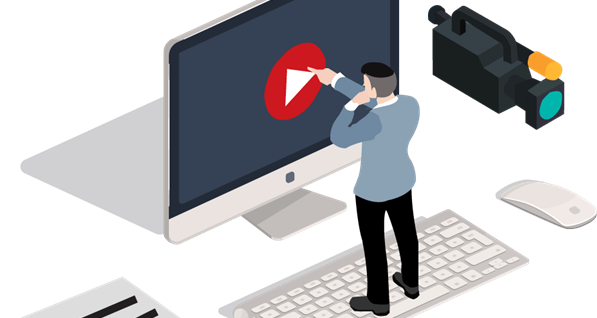 Steps on how to using Advert videos in your marketing Strategy
Tuesday, September 28, 2021
There is a popular saying in Africa that goes thus, "Men are moved by what they see while women are moved by what they hear". The simple meaning is this, for a young man seeking a life partner, the first point of attraction is what he sees in a lady, this could either be the physical attributes, the social standing or the intellectual capacity of the lady in particular. And for the ladies, it simply means, they are attracted to what they hear in the man, does he have content, would he be able to compliment her status, is he an empty barrel or a loaded barrel.

In all of these, my point of view stays on the fact that both sexes are moved by both, it all just depends on the situation at hand. You want to ask me why I am inclining towards this point of view. I will tell you, above all, we are all human beings and human beings are creatures of habit. Some habits are breakable and some are not. This might be as a result if the environment or psychological factors that might have necessitated the creation of habit in the first place.

The same principle applies to online shopping and the customers involved. When customers shop online, they take extra steps to ensure the products they're browsing are what they really want. Because they can't see the product up close or hold it in their hands, they require reassurance and detailed information that tells them they're ready to make a purchase.
Let's face it, we live in a very fast-paced world and consumers are savvier than ever, sensitive to every part of your brand's experience, and plagued by major decision fatigue. Which means, you really don't have more than one second to capture their attention while they scroll through website, Facebook page, Instagram or open an email.

As a small business owner, it can be a struggle for the average ecommerce store to keep up. From runing, orders to fulfill, shipments to manage, and strategic decisions at every turn. Marketing might be the last thing on your mind. So am I telling you to give up, heck no, one thing remains clear — ecommerce isn't going anywhere. In fact, analysts predict ecomm revenue will continue to soar through 2025.

SO WHAT'S THE GOOD NEWS?

Adding a video to your website or marketing tools has been shown to improve conversions by nearly 80%. You want to know why, Video is a proven marketing tactic with major staying power, Video is both auditory and visual in nature, grabbing our attention in more ways than any other type of content can. It also allows you to tell a more complete story, building a narrative, building emotion, and provoking action more effectively.

HOW TO GO ABOUT IT

And once you develop a concrete strategy aligned with your goals, there are certain things you can do to boost your video's effectiveness. Here are five research-backed tips to make your video marketing efforts even more worthwhile.

1. Be a story teller

There is a certain psychology behind story-telling , You might say this is the golden rule of any form of content marketing, be it written, audio, or visual. You need to focus on adding value to your audience's lives by providing actionable advice instead of directly promoting your products or services.

As with blog posts, video marketing is the perfect opportunity to leverage the power of storytelling and ignite strong emotions. For example, you can present real-life examples of how your product helped a customer solve a pressing problem.

In fact, research suggests that nearly 80% of people prefer brands that tell stories as part of their marketing.

Sure, you can also create product videos specifically for the purpose of showcasing your product's features without beating around the bush. But leave that for paid advertising placements only. And truth be told, even for paid promotions, you should opt for creating a video that narrates a fascinating story rather than simply shoving your product's features down the audience's throats.

Your audience is sick and tired of being constantly interrupted by advertisements and promotional nonsense. So your best bet is to avoid being that kind of a brand. It is only going to repel them and stir up negative brand image.

2. Make the first 10 seconds count

Boring won't work, plain and simple. And so, about one-fifth of your audience will click away from the video within the first 10 seconds, unless you make it crystal-clear right from the start as to what they'll gain from watching your content.

To answer your audience's obligatory subconscious question:
Display the end result, proving your video's value
Ask an enticing, difficult question
Introduce a problem and promise a solution
State a startling fact
Use the words "what if" or "imagine"
Simply put, do whatever it takes to hook them right off the bat, or your video will go unwatched.

3. Include closed captions

According to the same infographic by Renderforest, 85% of videos on Facebook are watched without sound. The trends are along the same lines for Instagram and Twitter.

Now, Facebook generates well over 8 billion video views per day and these posts have 135% higher organic reach than regular photo posts, according to this study. So rest assured, a huge chunk of your video marketing ROI will come from Facebook.

Furthermore, research from Facebook themselves suggests there's a chance nobody understands your videos, as the mobile social media experience is designed for sound off.

So, if you think you're already nailing your social media marketing with stunning video posts, odds are you can further improve your ROI by adding closed captions (or subtitles). This way you'll increase engagement, click-throughs, and leads.

Check out this A/B test which found out how closed captioning Facebook videos can improve viewership.

Closed captioning will aid your YouTube marketing efforts too, as it lets viewers watch videos in inopportune moments or unsuitable environments, such as while studying in a library, riding a noisy train, and so on.

4. Optimize your video for search

Closed captioning serves another critical purpose: search engine optimization (SEO).

Arguably, search engine marketing (both, paid and organic) forms a big part of any digital marketing strategy. While text content such as blog posts, whitepapers, and case studies are tailor-made for achieving high rankings on Google, there is a lot you can do to get your video content up there as well.

Not to mention, YouTube is the second largest search engine after Google. Thus, optimizing your video content for the top 2 search engines can take your video marketing ROI to a whole new level.
Choose a highly relevant title incorporating keywords (do not clickbait!)
Write a comprehensive video description similar to the top performing videos in your niche
Add all relevant tags
Add a keyword rich transcript
And of course, add closed captions.
One thing you might have noticed is that each pointer talks about doing some text-related activity. You see, Google's crawlers (or spiders/bots) can't watch or understand video content. But they can crawl textual content to understand what your video is all about.

So, doing all this will not only help achieve higher rankings on YouTube, but your video will also stand a better chance to appear in the video results on Google SERP.

Additionally, to reap the maximum SEO value from your video, host it on your own domain before uploading it to any of the social sharing platforms.

By the way, Google can now extract specific snippets of your video and display it for relevant search queries. Consequently, having keyword rich transcriptions is a must.

5. End with a call-to-action (CTA)

This is important. Chances are, viewers who stick around and watch the entire video are now genuinely interested in your offerings. You might even call them "qualified leads".

Now is your chance to guide them to perform some desired action such as browse your product catalog, start a free trial, subscribe, consume more of your content, and so on.

Therefore, always end your videos with a call-to-action button and let your audience know exactly what they have to do next. For example, add end-screen annotations to your YouTube videos such as a "Subscribe" button, or ask them to answer a poll.

Besides, when it specifically comes to hosting the video on your own domain, the CTA doesn't have to be at the end of the video either. According to a study conducted by KISSmetrics, adding a single CTA within a video generates as much as 380% more clicks than a CTA on the sidebar of the same page. So, consider adding CTAs judiciously throughout the video.

In Conclusion

With so much existing competition, you must feel the need to create innovative ways to engage with your audiences. It also makes it more difficult to drive sales when customers have so many options.

When done creatively and with a purpose, video marketing can set you apart from the rest. Use these tips to transform your e-commerce video marketing strategy and watch as you attract more leads and generate more sales.
Comments